Friday, November 27, 2015
The Iron Bowl - Bama Vs Auburn
Wow, and the regular season comes to a close - first my apology for not showing for the past couple of weeks, a minor health issue now resolved helps me find my way back. Since last here, Bama of course continues to roll with wins over Miss State and SC Charlotte. Bama looked good in both - they seem very focused on the task at hand no matter who the opponent.

Though a couple of injuries have occurred along the way, the most impact would be Kenyan Drake, who broke his arm on special teams, making a tackle. Should Bama make it to the SEC Champ game, he may be good to go.

This week Bama is on the road in the Loveliest Village - to take on the Tigers of Auburn. The Iron Bowl... College footballs bigges rivalry :)
So here we are - Auburn can play the role of spoiler to keep Bama out of the hunt for the playoffs.
Looking at this one on paper, The Crimson Tide holds a decided advantage. However, as they say the game isn't played on paper. Alabama's D must avoid the big play from the Auburn O and expect them to pull out all the stops, with a nothing to lose and ever-thing to gain attitude. I suspect Auburn will try to pass to open the run. This group of Bama D-backs have matured a lot this year, and while I do believe they may give up the occasional toss and catch, I don't believer Auburn can be consistent. I believer this Bama front 7 is able to stop the run and pressure like no other Bama D Auburn has faced. Plus in the 5 games Alabama has won since Saban came on board the average score is Bama 42 Aub 14. In the 3 losses, the average score is Auburn 26 Bama 22. Either way I like Bama in this one to come on strong going away by as score of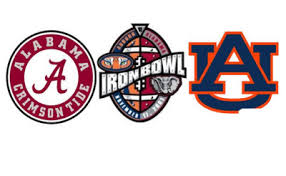 Bama 40 - Auburn 20
ROLL TIDE !!!!
Fri, November 27, 2015 | link
Thursday, November 5, 2015
Game of the Centruy part 3 --- Bama vs LSU
Recap - Bama vs Tenn
Closer than most expected - Bama 19 Tenn 14 . The biggest things in this game to me, -- Bama's last minute drive to take the lead - and the play of Jake Coker who was 21-27 for 247 yards. Bama again looked great on defense, and though the score is not indicative, the Offense looks like they are finding themselves. Also, I saw a team that looked tired, and at times flatfooted.... Hopefully the week off will refresh Bama with fresh legs and minds for the task at hand LSU.
How many games of the Century can you have? Think back - Bama vs LSU a few years back - the game of the century - the rematch in the NC Game - Game of the century - and this Saturday - Bama ranked #4 and LSU ranked #2 in the first Playoff Ranking of the season, tee it up in Bryant Denny Stadium at 7pm on CBS.
Big game ? You bet - ESPN College Game day will be in T-town for the 2nd time this year. As if the game itself were not enough - RAIN - yep, James Spann says the game will see rain, and possible TStorms.
Stats - these two teams look so much alike - relying on Defense and the Running game - in fact when you look at the stats, it is almost like looking in the mirror.
Clichés - Pick one - it applies. And that said - Bama has a simple yet difficult task. Stop the run on Defense, be able to run the ball on offense - avoid turnovers and win the game. LSU, however has a lot to say about that. The LSU offense hardly ever turns the ball over - in fact their QB has yet to throw an int. Very impressive.
If there is a chink in the armor of LSU, it is the same as the one in Bama's - the secondary. LSU (like Bama D's of the past) is prone to have busted coverage, allowing teams to make and often score on those long plays.
As much as the RB's Henry and Fournette will have a big say in this game, Bama will need Jake Coker to be consistent - protect the ball and make some plays with his legs.
My PICK
Bama 26 LSU 22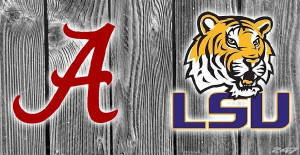 Thu, November 5, 2015 | link
Tuesday, October 20, 2015
Week 8 - Bama vs UT
Ask any Bama or Tenn fan this question - "Does the Third Saturday in October hold any significance?" and you will likely get a passionate answer about Football. Bama an UT have squared off on the 3rd Saturday so many times that books have been written about the rivalry... Bear Bryant vs General Neyland - the tradition of two great Southern University's. Because of streaks, and the advent of the SEC Divisional play - this series has lost some of its national luster, but for Bama and UT fans, this game special - ceremonial cigars go to the victor - yes, the 3rd Saturday in October is special.

First a quick look at last week. Bama, by virtue of forced turnovers, stingy run defense and a successful running game beat the Aggies 41-23. Bama scored 2 TD's on defense, and of course that not only kept TAMU at bay, but the 105 thousand plus fans - including the 12th Man - insignificant in the game. Bama's secondary continues to show signs of improvement, and the pressure from the front 7 makes them look better. The best stat of the day from my seat was TAMU 32 yards rushing.

Bama is favored by 14 but Bama fans are all too familiar with the 2009 game where Bama had to block and extra point to win - however Bama has won eight in a row. Tenn comes in to this game with a 3 and 3 record. Two of those losses were blown leads, and they are also ridding the momentum of a win over Georgia 38 -31. The Vols offense will challenge the Bama defense utilizing the HUNH at times and a mobile and athletic QB in Josh Dobbs who averages 5 YPC - and 12 attempts per game. Jake Coker however has shown, especially against TAMU, that he too is capable of making a positive out of a negative with a couple of big runs - he is however not the athlete Dobbs is.
On paper, you think this is a game Bama should win easily, being ole school - and knowing the history and tradition of the famed 3rd Saturday in October, I know it won't be an easy win. I think this game Bama will play at home as well as they do on the road. Same as last week, stop the run, and run the ball, and Bama should take this one ...
37 24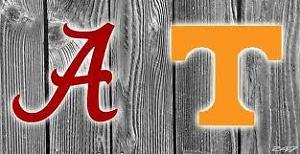 Tue, October 20, 2015 | link
Tuesday, October 13, 2015
Week 7 Bama Vs TAMU
How is it possible we are this far in the season that started yesterday? Really it goes so fast and takes so long to get here, I suppose the best analogy is Christmas for kids. Nonetheless, time marches on and The Crimson Tide marches to College Station Texas to square off with the undefeated Aggies.
First a quick recap of Homecoming. Bama beat the Hawgs by a score of 27 - 14 in a game where the score was not indicative of the game. Arky scored late to bring it to a 13 point gap, and Bama tried for 3 quarters to stay out of their own way. Another game with turnovers (two) that proved to take the offense out of their stride which they struggled until late in the 3rd to regain.
This Bama Defense is real!!! The secondary seems to be improving, but I still see times when they miss assignments and have a man running wide open - of course those things do happen, and thankfully they are fewer as the season progresses. If and it is a big if - the secondary can close the gaps and play more consistent, this Defense has the opportunity to be one that will long be remembered in the annals of Bama lore. But let's not get too far ahead of ourselves. The secondary will certainly be tested in College Station.
The Aggies are looking to revenge a 59 - 0 shellacking in Tuscaloosa last year. And with the addition of D Coordinator, John Chavis the defense seems shored up and playing much better than the porous one last year.
For a fair comparison of both - look that the numbers, however keep in mind - TAMU has played one less game than Bama
OFFENSIVE NUMBERS
| | | | | | | | | | |
| --- | --- | --- | --- | --- | --- | --- | --- | --- | --- |
| RK | TEAM | | | | | | | | |
| 49 | | 2402 | 480 | 1462 | 292.4 | 940 | 188.0 | 196 | 39.2 |
| 29 | | 2615 | 436 | 1482 | 247.0 | 1133 | 188.8 | 208 | 34.7 |
DEFENSIVE NUMBERS
| | | | | | | | | | |
| --- | --- | --- | --- | --- | --- | --- | --- | --- | --- |
| RK | TEAM | | | | | | | | |
| 13 | | 1587 | 265 | 1123 | 187.2 | 464 | 77.3 | 94 | 15.7 |
| 39 | | 1874 | 375 | 961 | 192.2 | 913 | 182.6 | 105 | 21.0 |
| | | | | | | | | | |
The big numbers that stand out to me are - Rushing - TAMU has given up almost as much rushing as they have offensively. Bama on the other hand has twice as many yards rushing as they have given up. What does that mean? Well, to me - run the ball and stop the run to win. Bama certainly has the ability to do both. The Tide comes in this game as a 4 -5 point favorite. I believe they can win if they don't allow TAMU to get out early and keep the turnovers to a minimum. One thing is sure, the CBS 2:30 game will be a good one. I too am counting on the fact that Jake Cokers two best games this year are road games.
My Pick
20 28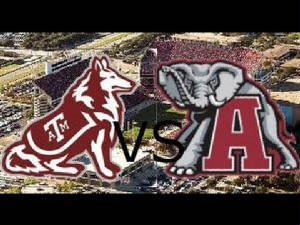 Tue, October 13, 2015 | link
Tuesday, October 6, 2015
Week 6 Homcoming - Bama Vs Arkansas
Love Homecoming - We will be rounding up the Tide Rides and headed to T town for the 1PM parade... hope to see you !!!
Well as astounded as I was at the Ole Miss victory over Bama, I was equally astounded as I braved the rain at Sanford Stadium and watched the Tide handle the Bulldogs in a fashion that no doubt made, Gene Stallings and the late Coach Bryant proud.
The hat trick, Offense - Defense - Special Teams, shared in scoring against the Dawgs who were favored by 2 points. Bama finished with a score of 38 -10 and really the game wasn't that close. Jake Coker seemed to find his missing MoJo with his best performance thus far and you could almost see his confidence grow. Despite a fumble to put the Defense in a bind early Bama D never wavered, in fact had they not let Chubb loose on an 85 yard ramble, the D played almost flawlessly.

This is the Team most Bama fans anticipated at the beginning of the year. Now the question, can they be consistent? To steal a line from Coach Saban, "consistency is an area most humans suffer". If Bama can sustain that elusive consistency they should able to stand toe to toe with everyone on the schedule.
But as they say "one game at a time" Arkansas is the business at hand. The Hogs come to Tuscaloosa as more than 2 TD underdog, ridding an SEC victory on the road against the Tenn Vols. The Hogs had two backs with over 100 and their QB had over 200 yards, giving the team almost 500 total yards, while holding the Vols to 365.
Traditionally this game is close, and that was the case last year when Bama held on to defeat the Hogs by one, 14-13. I believe this Bama team will continue to ride the momentum from Ga. and defeat the Hogs in the ESPN night game.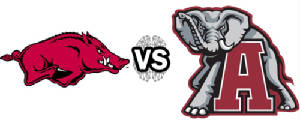 13 34
Tue, October 6, 2015 | link