Wednesday, November 22, 2017
Season Finale' THE IRON BOWL
The IRON BOWL
Bama had no problem handling Mercer - last week. The final score could have been "YOU NAME IT TO ZERO".
Although a blowout, was a good opportunity for Bama to lick its wounds and allow a few of the nicked up players to get better.
This Iron Bowl - the 82st meeting between these two, is about as big as it can get. Funny how I remember saying that about so many games since Coach Saban joined the Bama Staff. Auburn comes into this game with two losses, one to Clemson and one to LSU. The LSU loss is something of a mystery as the Tigers of Auburn, had a big lead only to see the Tigers of LSU fight back and dominate the 2nd half to win. Since that game the Auburn Tigers have been clicking on all cylinders with both a good running game, a good passing game and a defense that stopped the Georgia Bulldogs cold. In fact the much talked about Dawg backfield was sent yelping with their tails between their legs. This game brought Auburn "Back" to the talks for playoffs etc.

Is Auburn as good as they looked against Ga? Is Ga as good as everyone thought? Who knows... but none of that will matter at 6:30 Saturday on the plains.
This game is one where the cliché is "Throw the record books out" - where in reality the favored team wins more often than not. Playing on a neutral field, I think Bama would be favored by 10+ however, the spread is Bama by 4. The most points scored against Auburn this year are 27, twice LSU and TAMU. Both those were on the road. Bama on the other hand has given up 23 to Colorado State, and 23 to Miss State. Bama has 2 shutouts and Auburn has zero. The stats listed below are very close.
I believe it will be a fight to the finish, and I believe Bama and Hurts, will end up being too much for the Tigers.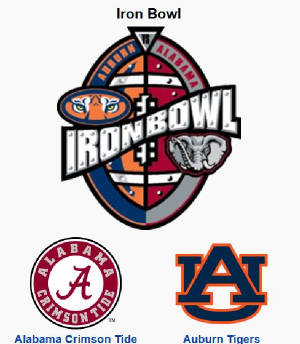 31 23
ROLL TIDE !!!
Stats
Scoring O
1. Bama 41.4
3. AU 37.6
Scoring D
1. Bama 10.2
3. AU 16.6
Total O
2. Bama 479.2
3. AU 475.9
Total D
1. Bama 244.1
4. AU 302.5
Rush O
1. Bama 270.3
4. AU 244.0
Rush D
1. Bama 87.4
3. AU 118.2
Pass O
4. AU 231.9
7. Bama 208.9
Pass D
2. Bama 156.7
6. AU 184.4
Pass Eff
1. Bama
3. AU
Pass D Eff
1. Bama
3. AU
INTs
1 Bama 15
11. AU 6
Sacks By
3. AU 32
4. Bama 30
Sacks Against
5. Bama 20
9. AU 26
First Downs
1. Bama 257
5. AU 241
Opp First Downs
2. Bama 154
4. AU 175
3rd Down Conversions
4. AU 45.6%
5. Bama 42.1
Opp 3rd Down Conversions
1. Bama 31.0%
5. AU 33.3%
Wed, November 22, 2017 | link
Wednesday, November 8, 2017
Week 11 Bama VS Miss St
Bama VS Miss St
Bama didn't appear to have a great game vs LSU last week winning by 14 after being favored by 21. LSU won in almost every category of the stats. Bama could never get their running game going and couldn't seem to stop LSU as they have most opponents this year. Bama also took another hit at linebacker and on the Dline with more injuries. Those are beginning to pile up, and should cause some concern among the coaches and fans. Is that concern valid? I believe so, especially from a depth standpoint. Thankfully the winner of the stats doesn't matter, and the scoreboard does... so Bama 24 LSU 10 is the only stat that matters.

This week Bama travels to Starkville (a short road trip) to take on the Bulldogs. The Dogs are ranked 16 in the Nation with 2 losses. Those came to Georgia and to Auburn. This is a game that many had marked on their calendars for a long time. At the beginning of the year, many thought this would be the thorn in Bama's side. Many think Miss State matches up well versus The Tide at many positions. Of course with all the injuries, if that was true, it certainly is now. The Linebacker spot is critical in defending a QB like Nick Fitzgerald may prove difficult. Fitzgerald is swift afoot and has on occasion carried the team on his shoulders. Bama will have to be able to stop Fitzgerald and the Miss State running game, to keep an upset from happening here.
Bama of course has a weapon at QB in Hurts. Who carries his team at times. Bama's most secret weapon may be punter JK Scott. Thus far for the year, Bama (Scott) has yet to have a punt returned. They have either been touchbacks, fair catches or downed. When the Offense stalls, having that weapon is really a difference maker.
I think Bama may have some trouble with State and if they allow them to "hang around" too long it could be costly. But, I think Bama will out physical them and win going away.
ROLL TIDE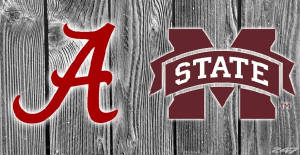 38 16
Wed, November 8, 2017 | link
Wednesday, November 1, 2017
Wednesday November 1st WEEK 10
Well, its Bama vs LSU time. Wow, how time chances things. Of course in my world I think as my dad told me there is a pendulum effect. Meaning as sure as it swings in one direction, it is going to swing in the other one day. What does that have to do with this game? Bama vs LSU was once a game that the media craved, it decided the SEC West, and was once as little as 5 years ago coined "The Game of the Century". Tomorrow at 7pm Bama will defend their undefeated record on their home field against an LSU bunch who dropped an early game to Troy. Yes, as I typed that, I had to double check but it was Troy. The Tigers are a bit on the unpredictable level, they lost not only to Troy, but were really manhandled by Miss State. The Tigers, however have eked out wins over Auburn and Florida. Both games they were considered underdogs. The most recently handled Ole Miss 40 - 24.

Bama comes in a 21 point favorite. WOW - that is difficult to believe, but Bama has handled everyone in the fashion of a drubbing, with the exception of TAMU (win by 8). And looking at this game on paper, it looks as if 21 may not be enough. However as the cliché goes, they don't play on paper.
In the past few weeks, since the Auburn win, LSU seems to have gotten some continuity and seems to be playing better football. Both have had a week off heading into this game. The Tigers are playing with a nothing to lose attitude, and Bama has everything to lose. The first College Playoff Poll came out last night, and Georgia is ranked the #1 team, with Bama #2. Will that have any effect on the minds of the Bama players? I'd say a bit. I believe Coach Saban when he says they don't talk about the Polls, but I think the players do and will perhaps be a bit miffed. That of course will not matter long as the first hit of the game usually takes care of the emotional part.
I think Bama has too many talented players so deep on the roster, that even if LSU can hang with them early, they won't be able to going into the 4th Quarter.
The key for the Tide is to do what they have done all year, score early and play Defense. If Bama does that, LSU may have a hard time not allowing them to cover. Hopefully Bama has done some work on the special teams part of the game, and will not botch a catch on punt returns.
This Bama LSU game may be like the one billed "Game of the Century" where LSU didn't get much going on Offense and only crossed midfield once.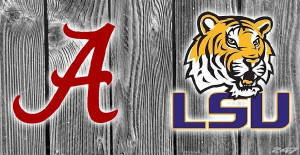 38 10
Wed, November 1, 2017 | link