Friday, October 21, 2011
WEEK 8 - The Storied 3rd Saturday in October !!!
Most thought OLE MISS would be over mached in last weeks contest, but I suspect few thought it would get as ugly as it did.
Ole Miss scored first, and apparently it made the Tide D mad, and motivated the offense...as the Tide rolled off 52 unanswered points, with the D locking down.

Trent Richardson moved into 2nd place in the nation in total rushing with a career day against the Black Bears. (that just seems so wrong not to call them the Rebs) Richardson also caught the attention of the Heisman voters with an unbelievable run where he stutter-steps and leaves defenders with looks of amazement and befuddlement.

The Tide continues to amaze with it's Defense, as they seem to get better every game.
Bama comes off the road this week and the once mighty Volunteers of Tennessee come to town. Vegas odds makers have installed the Tide as 27 - 30 point favorite. WOW, can you imagine? I can't ... not only does this indicate how good Bama is, but how far Tenn has fallen. And I know to you Bama fans who despise Tenn as much as me, that is fine with you.

TENN BAMA
| Avg. Yds (Rk) | Category | Avg. Yds (Rk) |
| --- | --- | --- |
| 294.0 (22nd) | Pass Off. | 219.0 (70th) |
| 89.0 (107th) | Rush Off. | 241.6 (12th) |
| 194.5 (26th) | Pass Def. | 146.0 (4th) |
| 155.8 (60th) | Rush Def. | 38.1 (1st) |
Location:
Tuscaloosa, AL
I look for Bama to continue its Roll toward that big showdown with LSU in November
Bama will cover the spread or at least get close.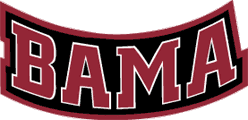 45
10

Fri, October 21, 2011 | link
Wednesday, October 12, 2011
Week 7 Bama on the road to Oxford to take on OLE MISS

Homecoming on the Capstone. WOW - I was honored once again to be fortunate enough to participate in the HC Parade. Seeing those smiling faces are always so rewarding. I was thinking this morning... about my love of Cars..collecting them etc...and the motivation is.... the smiles they bring. Once a smile occurs on someone who is looking, I always smile a thousand times over.
ON TO BAMA FOOTBALL - The Tide was a bit flat in the first half, but as a buddy of mine (not a Bama fan said) "they sleepwalk and win by 34". And that was a pretty good assessment.
The Defense shined as usual, but against the Dores, AJ had a career game.
The Tide ran for 153 yards and threw for 266. McCarron finished 23-30 for 237 yards and four touchdowns. He completed passes to six different receivers. The four scoring tries put him in a tie for second place in school history for one game. None other than Gary Hollingsworth owns the record at 5 posted against none other than ...OLE MISS.
After posting big numbers on Offense and Defense Bama is ranked highly in all Defensive catagores and moving up in Offensive rankings as well

| | | |
| --- | --- | --- |
| FBS Ranking | Offense | Defense |
| Rushing | 217.0 (19th) | 39.8 (1st) |
| Passing | 217.8 (69th) | 151.5 (4th) |
| Overall | 40th | 3rd |
__________________________________________________________________________________________

| | | |
| --- | --- | --- |
| FBS Ranking | Offense | Defense |
| Rushing | 116.6 (90th) | 193.0 (92nd) |
| Passing | 158.6 (102nd) | 215.4 (47th) |
| Overall | 113th | 84th |
Looking at these numbers you'd expect Bama to have its' way with the REBS and obviously with Vegas odds at 26 they agree.
That said, NUTT seems to excell in these games, so - I do expect Ole Miss to be tougher and perhaps trickier than most.
Wed, October 12, 2011 | link
Saturday, October 8, 2011
Week 6 BAMA DORES HOMECOMING IN T TOWN
Bama had little troubles with Florida in the swamp last week. Taking care of the Gators to the tun of 38 - 10 in the swamp. I must say again, that Bama's D is REAL. Holding Fla to less than 20 yards RUSHING ...making for Bama and LSU to be a greatly anticipated match up.
Bama is a 29 point fav over Vandy and that may very well happen, but I see this being a game where Bama my have some troubles meeing the line... and fully expect the Tide to win but no more than 21.
MY PREDICTION BAMA 28 - VANDY 7
ROLL TIDE
Sat, October 8, 2011 | link