Tuesday, November 22, 2011
WEEK 13 - Tide Vs Tigers - Auburn Tigers that is
You've heard or will hear them all this week
"Throw the record books out the window"
"Records and stats don't mater when these teams meet"
Cliche after cliche... truth is - the favored team usually wins the Iron Bowl..yes there are exceptions and we remember the exceptions more than not.
My take on the game ? Close for the first quarter... then Bama's D will take over. Bama is an unprecedented 20 point Favorite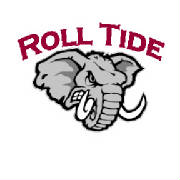 27

6 ROLL TIDE
Some Interesting stuff about the series...
IRON BOWL RANKINGS: For the 27th time since 1980, at least one team is ranked in the Associated Press Top 25 entering the annual Iron Bowl. Neither team was ranked in 1982, 1998 and 2003. Alabama is No. 2 in the current AP poll and is ranked entering the Iron Bowl for the 38th time in history. The Crimson Tide is 26-11 against the Tigers when ranked in the AP poll. Auburn has been ranked a total of 26 times in Iron Bowl history and has compiled a 19-8 record when ranked in the AP Top 25. The highest ranked team owns a 41-10 record in the series since 1955.
TELEVISED GAMES: The 2011 Alabama-Auburn game will be the 37th televised game in the series, dating back to the series' first televised game in 1964. Alabama owns an 19-17 record in the previous 36 TV games. The Alabama-Auburn game is being televised for the 18th consecutive year. CBS Sports will televise its 13th Iron Bowl this season.
SABAN VERSUS AUBURN: Alabama head coach Nick Saban is 4-5 in his career against the Auburn Tigers. Saban made his Alabama debut in the Nov. 24, 2007, Iron Bowl at Jordan-Hare Stadium. Saban was 2-3 against the Tigers while the head coach at LSU from 2000-04.
IRON BOWL COACHING RECORDS: Former Alabama head coach Paul "Bear" Bryant holds the Iron Bowl record for most games coached (25) and most wins (19).
39 NATIONAL TV GAMES IN LAST 50 GAMES: Alabama's contest at Mississippi State on Nov. 12, marked the 39th nationally-televised game since the start of the 2008 season for the Crimson Tide. This season Alabama has played on CBS three times, while having one game on ABC, two games on ESPN2 and one game each on ESPN on ESPNU. In 2010, Alabama had five games on CBS, three games on ESPN, two games on ESPN2, one on ABC and one on ESPNU. In 2009, UA played two games on ABC, including the BCS National Championship Game, and six games on CBS while ESPN broadcast two more Crimson Tide games. In 2008, Alabama had 10 of its 14 games broadcast nationally, including five games on CBS, three games on ESPN, one on ABC and one on FOX.
TIDE 47-3 UNDER SABAN WHEN LEADING AT THE HALF:
The Crimson Tide is 47-3 when leading at halftime under head coach
Nick Saban
. Alabama had a 28-game winning streak snapped in 2010 against LSU. The first two losses came against LSU with the last loss to Auburn in 2010. In 2007, UA held a 20-17 halftime lead before losing, 41-34, on Nov. 3, 2007, at Bryant-Denny Stadium. In 2010, UA led 10-3 at the half before the Tigers rallied for a 24-20 win at Tiger Stadium. The Tide lost 28-27 to Auburn to close out the 2010 season after leading 24-7 at the half. The Crimson Tide is 3-5 under Saban when trailing at halftime and 3-3 when tied at halftime. The three wins when trailing at the half came in a 34-24 win over No. 7 Virginia Tech on Sept. 5, 2009, in Atlanta; a 24-15 victory over No. 9 LSU on Nov. 7, 2009; and a 24-20 win at Arkansas on Sept. 25, 2010. Alabama's three wins when tied at halftime came at LSU on Nov. 8, 2008, (a 27-21 victory), at Auburn with a 26-21 win on Nov. 27, 2009 and against Tennessee on Oct. 22, 2011 (37-6 victory).
Tue, November 22, 2011 | link
WEEK 12 BAMA VS GA SOUTHERN
Sorry I didn't post prior to the Bama Ga Southern Game... as the site editor wouldn't load.
Bama had much more of a game with GS than most expected. Gaining over 300 yards on the ground to the Bama D who has given up only 40 per game to that point. And they scored more than anyone against the Tide this year . Final Bama 45 - 21. Looking ahead? Perhaps ... but when Saturday night ended Bama finds themselves in a sweet spot. Beat Auburn ... win the Iron Bowl... and you are almost a shoe-in for the BCSNCG in New Orleans. But least we get ahead of ourselves.
Tue, November 22, 2011 | link
Thursday, November 10, 2011
The Tide came up short against LSU - Week 11 - Bama vs Miss State
White men can't jump - remember the line?
"Sometimes when you win, you really lose, and sometimes when you lose, you really win, and sometimes when you win or lose, you actually tie, and sometimes when you tie, you actually win or lose. Winning or losing is all one organic mechanism, from which one extracts what one needs."
Some how that line seems fitting of last weeks game against the TIGERS from LSU. Bama played great D, was tied when the game ended, but LOST in OT. Admittedly I was stunned.
I could write about missed opportunities, and about lots of other things, but bottom line is, if your defense holds your opponent to 6 points, you should win. Bama didn't get it done.
Miss State is one of those games that many think could be a "TRAP GAME". I don't think so, I think Bama on the Road has something to prove, and will. I don't expect a BLOW OUT, but do expect The Tide to Roll .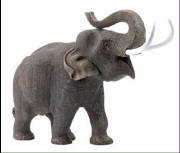 35

10
ROLL TIDE !!!!!!!!!!!!
ONE FINAL COMMENT
The situation at Penn State, is indeed a sad situation.
Thu, November 10, 2011 | link
Thursday, November 3, 2011
WEEK 10 - After a week off - Bama Vs. LSU
Bama handled the Vols 37-6 in a game that seemed close until Bama's 3rd qtr performance. McCarron had a great game...in what hopefully will be a tune up for this week.
THIS WEEK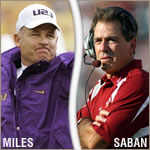 Nothing can be said about this game by me or anyone else for that matter, that hasn't been said this week. Game of the Century - National Championship Game, one thing for certain, it is not being overlooked? CBS PRIME TIME GAME - ESPN GAME DAY CREW IN TTOWN.


Bama favored by 4-5 depending on where you look, and of course this is based on it being in Tuscaloosa.
My fearless prediction? AJ and Trent have big days.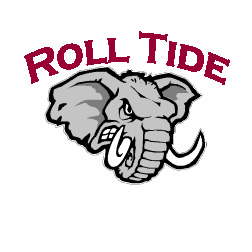 30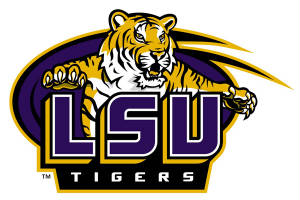 20
Thu, November 3, 2011 | link