Wednesday, October 22, 2014
The Third Saturday in October – OPPS make that the 4th.
Tide VS Vols – Time was the mere thought of this game would raise hairs on the necks of both Bama and Vol fans, but the rivalry has lacked the luster since Phil was booted out of Knoxville. Bama has dominated of late in this streaky series.
Which Bama will show up? The one who trounced the Aggies 59 – 0 ? Or the Tide who struggled to score against Arky? Of course I hope it is the better of the Tides. I have watched (followed) Bama for a long time and I must say that game on Saturday against TAMU was one of the best performances by both Offense, Defense and special teams, I have ever seen by a Bama or any team. Is it playing at home that makes the difference ? Is it the fact that Saban said – "let em run" or is it the fact that this team is truly that good? My uneducated guess – a combination of all of the above.
This Bama team played with an abundance of enthusiasm on Saturday and TAMU never was in the game. Tennesse comes in with their most recent defeat – Ole Miss on the road – 34 – 3 and sporting a record of 3-4, winless in the SEC. Against SEC opponents UT is averaging about 14 points per game – Bama vs SEC opponents are averaging 32 points per game. Bama is giving up 14 on Defense and UT gives up 25 to SEC opponents.
Bama has some players nicked and bruised, but for the most part all will be back and ready if needed. I look for the crowd to affect Bama early…but The Tide will wear them down and dominate late.

41 10
ROLL TIDE !
Wed, October 22, 2014 | link
Wednesday, October 15, 2014
Narrow Escape – HOGZILLA – Week 8 Bama Vs TAMU
Remember I'm old school. Where a win is a win, where – when all is said and done – they seldom look back in 2 or 3 years to say – Do you remember how we almost lost 5 games? Doubtful !! I can remember in I think 73, Bama plays a horrible game and defeats then lowly FSU by a point or two. The team was excited, the coaches excited – of course then there was no talk radio, SEC Network, internet… to stir the disappointment. Then there was also something called RESPECT and SUPPORT for your team regardless. Those days, unfortunately – seem to have passed us by.
Of course I am like the next fan - I want Bama to win and win big, but I never lose the perspective that a W is a W.
That said, this team is looking to find a personality – and identity. And if that doesn't happen soon, in spite of all the talent and great coaches, could be in for a longer than usual season. If that identity is found – Bama could work its way into the playoff of 4 and eventually to the NCG. Of course much can happen and there is still a lot of Football to be played.
In fact a Texas AM team will find its way to Tuscaloosa for a CBS 2:30 Kick.. Bama comes in as a 9 point favorite – TAMU has lost two games, one to Miss State, and more recently to Ole Miss. A spot many teams who face both Mississippi teams are likely to find themselves.
Head to Head – Bama lost to Ole Miss by 6 TAMU lost to Ole Miss by 15 = Bama Beat Arky by 1 TAMU beat the Hogs by 7 in OT.
I see this as a time where Bama not only needs an identity – they need to make a statement. This team has shown how great they are capable of being, but is dragging the luggage of playing "UNSABANLIKE" with penalties, turnovers and no attention to detail. That statement can be made by controlling this game from beginning to end.
Bama will play better at home – my fearless prediction –
Bama 38 TAMU 27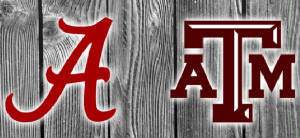 Wed, October 15, 2014 | link
Thursday, October 9, 2014
Week 7 - Bama Vs Ark
When you are wrong you are wrong – I was wrong !!! Bama instead of pulling away in the 2nd half – struggled with a good Ole Miss team, committed turnovers the last two times they had the ball and came away with a defeat. While Bama moved the ball well at time, they struggled in the red zone, and committed senseless errors. Ole Miss took advantage of those and at times dominated both lines of scrimmage. To make matters worse, Bama lost its starting center – and Kenyan Drake (gruesome breaking of the leg).
Great teams win when faced with adversity, Bama had the ball with time running out, only to throw an INT – Game ending, after a penalty on a big gain. Not making excuses at all. Ole Miss moved into the top 5 and Bama rightfully so dropped to #7.
Some are saying this Bama squad will lose more games this year – others say "not so fast my friend" – Bama stumbled but didn't fall and will climb back into the Playoff picture.

My opinion, for what it is worth, this team shows flashes of brilliance and other times average to below average. This was the first "REAL" road trip – and I think the pressure was more than anticipated. That now behind them – the real answer will come this week when Bama travels to Fayetteville to face the HOGS. Arkansas remains winless in the SEC for the last 14 games.

Bama is favored by 9 – but as we found last week, being favored doesn't mean an automatic W.
My prediction – I look for Bama to bounce back and beat the Hogs… but I don't expect Arky to roll over and play dead. They have a running offense that runs downhill very well. Power Football !!!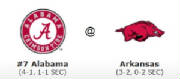 34 19
ROLL TIDE
Thu, October 9, 2014 | link
Wednesday, October 1, 2014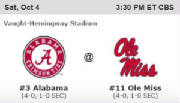 Game of the _FILL IN THE BLANK _ (Century has been overused)
How big is it ? ESPN College Gameday is to invade The Grove for the first time ever --- EVER!! Bama ranked 3rd in the AP Poll and 1st USA Today Poll, Ole Miss 11th in both – Both teams undefeated –
Bama coming off a big win over an obviously struggling FLA team, and Ole Miss seemingly struggled against Memphis and some say were looking ahead to Bama.
Ole Miss has won against the Tide 2 times since 1988. Both well chronicled – 88 was the "Brick through the window" game – and of course Eli Manning in 2003 lit up the Tide in an outstanding performance.
But as they say the past is the past… throw the record books out the window and any other clichés you may like… this matchup is looking to be a great game… and I look for it to be as well.
This is not the Ole Miss of Old J - Defensively they lead the SEC in interceptions and are 2nd Nationally.
Offensively – Ole Miss behind Bo Wallace is completing 71 percent of his passes and have the ability and receivers to score quickly.
Bama – well you all know about Bama – Blake Sims has been somewhat shrouded this week, after a shoulder injury against Fla. Bama is however, coming off a bye week and have had the opportunity to heal some nicks and bruises.
My Thought – for what they are worth: Bama needs to quell the crowd early and can do this by taking control of the game… forcing Ole Miss to play at a slower pace and keeping them out of positive plays on first down…. If this happens Bama will win big. If Bama fails to do this, it could be close…… but I think even then Bama will pull it out.
I believe Bama wins and covers the 6 point spred.
Bama 37 Ole Miss 17
Wed, October 1, 2014 | link