Tuesday, November 25, 2014
WEEK 14 Iron Bowl #79
What more is there to say? Everyone - or at least almost everyone - in the state of Alabama knows the significance of this game. This year as in the past 6 years, two teams play - one for the potential of competing for the National Championship, the other to role as SPOILER.
Bama at home is favored by 9 - 10 points, and I will not use the clichés (throw the record books out) but we all know there have been upsets in this game, but as in most rivalry games, the favored time wins "the majority of the time".
Bama comes into the 79th Iron Bowl with one loss, ranked #1 in the Nation. Auburn comes in at #14 with 3 losses. Bama has everything to lose, Auburn can save a disappointing season, however a season where many predicted Auburn would have several losses due to the difficulty of their season. Bama seems to be playing their best ball of the year, and Auburn seems to be slipping a bit, turnovers, penalties and a drop off in production the past 3 games, make this seem as a WIN for Bama...but again, the Iron Bowl is the Iron Bowl... always BIG BOY FOOTBALL. I expect this to be no different.
Quickly - last week, Bama seemed lackluster in the first quarter playing an outmanned Western Carolina team, but seemed to wake and cruised to a 48 - 14 victory. Many of the subs played and performed well. As the fear is with many of "this type game" Bama had some injuries that may affect them against Auburn. Hopefully all are available at game time. This was the first Homecoming TIDERIDES has missed in the past 7, but we look to be back next year.
Back to the Iron Bowl - I have so many great and so many Bad memories of the Iron Bowl - last minute drives, long field goals, runs in the mud, blocked punts, and run back kicks. My favorite would have to be the Van Tiffin field goal - at the 50th meeting of these two teams. I was watching a game this week from the 80's when the crowd was split 50/50 - and it was so great to see a sea of red on one side of the ole grey lady, and blue and orange on the other --- ahhhh... I digress.
None of that matters tomorrow, or does it ? Yes, it does, those memories and the memories to come are THE things that make the Iron Bowl the biggest rivalry in College Football.
I must admit, I am a little sad to see the season winding down... and filled with excitement of the possibility of Bama competing for it's 16th National Championship. But before I daydream about that, Bama has business to tend to in Tuscaloosa Saturday at 6:45 on ESPN.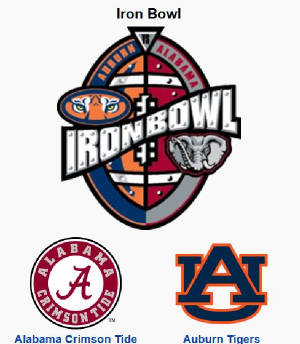 34 24

ROLL TIDE
Tue, November 25, 2014 | link
Friday, November 21, 2014
Week 13 - Bama back at #1 taking on the Catamounts of West Carolina
Bama catapulted into #1 by taking down the previously undefeated Bulldogs of Miss State - by a score of 25 - 20. After a strong first half, Bama was a bit tentative in the 2nd half, but managed to hold off a hard charging Ms State team, and doing so moved to the number one spot in the new playoff polls.
Bama is playing this week in the latest Homecoming game I can recall - speaking of Homecoming, I am sorry to say that due to unforeseen circumstance, Tide Rides will not be participating in the Parade this year, but hope to be back next year. Will certainly miss the fun and festivities.
Bama is heavily favored in this game, and hopefully will be able to rest some of its starters early. The Catamounts run a spread, which will likely get some yards, but I look for Bama to build an early lead and continue to add to it going away. Next week of course the Iron Bowl. Bama holds it's destiny in its own hands now, if they simply win out. Sounds simple huh?
This week look for Bama to score early and often and enjoy the Homecoming Festivities.
Bama 48 - WCU - 17
RTR
Fri, November 21, 2014 | link
Wednesday, November 12, 2014
Week 12 - Bama Vs Miss State
What a difference a year makes. I know I don't have to remind Bama fans - and hesitate to do so - however, a bit more than a year ago, Bama lived with that ONE SECOND debacle - fast forward to last week and add 49 more seconds and Bama fans rejoice. Bama literally snatched victory from the jaws of defeat, with the OT win in Baton Rouge. It was anything but easy and it was anything but pretty, but it was also anything but - A LOSS.

The climb doesn't get any easier this week, as Bama prepares for a difficult game against HailState, the Mississippi State Bulldogs the #1 team in the country. Yes, I too had to check.. as the Bullies find themselves in a bit of unfamiliar territory - #1 in the land. Bama is (in the only poll that matters now) #5. However the Tide is - a 7 point favorite. Go Figure !!!
GameDay is in Tuscaloosa for the 2:30 kick, as Bama makes it's appearance in the CBS game this Saturday.
MS STATE is a very good team, with leadership on both sides of the ball. A team laden with Sr's and of course a Heisman contender at the helm.
Bama has to be beaten and bruised but you can bet they don't have to be reminded how important this game and all other games are - a loss is certain death in the playoffs.
I think Bama holds an edge in this game in the Offensive Receivers VS MS ST Defensive Backs. However I believe QB advantage and the Oline advantage belongs to State. Bama will have to have Cooper - Yeldon and Sims to play OUTSTANDING games to be able to pull this one off. If the Tide can play the type "Home Game" they have played all year, Bama wins...going away. Anything short and the Tide will have another nail bitter.
My prediction -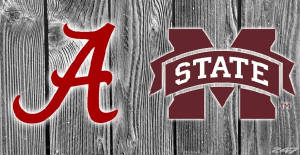 38 26
ROLL TIDE
Wed, November 12, 2014 | link
Monday, November 3, 2014
WEEK - 11 Bama vs LSU
Bama comes off a week off - a week to lick their wounds and put the rest of the season in perspective. That perspective from a Bama point of view - Bama holds their destiny in their hands. Thanks to Auburn (did I say that?) and a 2nd defeat of Ole Miss... Bama must win out against, LSU, Mississippi State and of course Auburn - and Bingo - Bama will be in the SEC Championship game.
Of course that is not a very easy task - both Ms. St and Aub are ranked ahead of Bama in every poll. Focus now is of utmost importance. That said, LSU is the next and therefore most important team on the schedule.
LSU is coming into this game off an off week as well...so no one can clam advantage or disadvantage, hopefully Bama will play better after this off week than the one before Ole Miss.
Both these teams seem to be playing their best ball at this time - LSU coming off a mild upset of OLE MISS, and Bama coming off a lopsided victory over Tennessee. Both teams are very strong upfront, with LSU playing a very physical style, very similar to Bama.
The Tigers are very fast and though young, have matured in their past few games. I do look for this to be a very physical game, Bama (IMO) holds an overall advantage. LSU is a very good running team, Bama very good against the run. I do look for Bama to try and force the game into the hands of the LSU QB and if that happens, it could be a long day for the Tigers. I look for Bama to try to set up the run, opening up with Sims dealing to the quick outside routes and getting Cooper open in space. Then they will begin to pound the ball.
Of course every game is a MUST WIN for Bama...and any game in Death Valley at night is not an easy task. Vegas has Bama as a 6 point favorite.
My pick this week - for the CBS 7pm Kick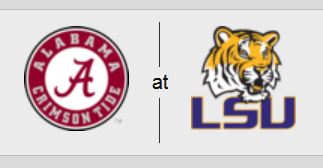 34 23
Roll Tide
Mon, November 3, 2014 | link