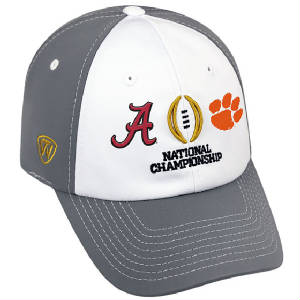 Pinching myself – 14-0. 26 in a row – and one more to go!!! Considering the amount of time I have spent watching Bama (and Football in general) Football, I don't recall a run like this in my life. Of course I know Oklahoma owns the longest win streak, but that's not what I am talking about. I am writing this on the 10th Anniversary of Nick Saban being hired at Alabama. The only way to describe the past ten years is DOMINATE – DYNASTY – STIFLING – OVERWHELMING… the list could go on and on. Saban has done a phenomenal job, and there is no end in sight. In fact as long as he continues to get the best recruits – I don't see an end to the domination.
Every year you hear the press say this is Sabans best Defense – yet the next year they are saying the same thing. Though a different era – it reminds me of the 70's when Bear would reload instead of rebuild. And here we are, for the 2nd year in a row, facing Clemson in the National Championship Game. WOW…. I pinch myself again.
Washington fell to Bama in the first round of the playoffs in spite of The Tide not having a stellar performance on Offense. In fact Jalen Hurts was held to a season low of 57 yards passing. But the DEFENSE – well they played LIGHTS OUT! Scored a TD – 15th this year! WOW!
Clemson SHUT OUT – the Ohio State Buckeyes – in a game that really didn't include much offense from the Buckeyes. Credit Clemson's defense as they stymied OSU all day. In the meantime Clemson led by their QB Deshaun Watson scored 31 points. Thus setting the stage for a rematch of last year's NCG – The Tigers and The Tide!
Bama comes in as a 6 point favorite however, the big money in Vegas is going on Clemson. What does that mean? Well I think it means, everyone watched the playoff and saw Clemson dominate OSU and based on that – the revenge factor and "Been there before" – that Clemson is ready to dethrone the might Crimson Tide? Now throw in another caveat – Bama is without the Mastermind Offensive Coordinator Lane Kiffin – WHAT? Yes, his "MUTUALLY agreed upon" exodus occurred the day after the playoff game. Personally, I don't think this move will matter a lot. Why? Well, I have to think that Steve Sarkisian has been in on much of what is going on with the Bama offense and don't forget he comes from USC – and he and Kiffin were big buds. And if I am not mistaken, David Cutcliff was the Tennessee OC who left UT before their NCG in 1998. But let's face it, in those days most people didn't know who the OC was anywhere. As we didn't have the social media outlets of today. Nonetheless – I think there may be a hiccup or two, but I don't think it will be a deciding factor.
The deciding factor – I think will be Defense! The old saying "defense wins championships". No doubt Alabama has the best Defense in the game. So no surprise, Bama to win, will have to stop the run, and be able to run the ball, thus control the tempo – and shorten the game. And pressure QB D. Watson. Can they do it? I think so.
So, I don't look for a 45 – 40 game like last year. In fact I think if it becomes a scoring fest, Bama will have a difficult time keeping pace. So I look for a lower scoring game, but Bama to come out on top with another National Championship.
23 17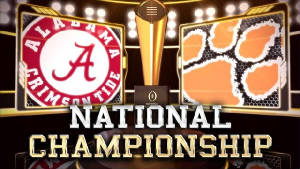 Roll Tide !!!