Wednesday, December 30, 2015
2015 Cotton Bowl - The Tide is High
12/30/2015
Another first for Bama - as of tomorrow, Bama will be the only team to make the college playoffs 2 times in a row. Of course this is only the second one and Bama is squaring up against the Spartans of Michigan State.
This game has all the makings of a perennial game - #2 vs #3 - both teams concentrate on Defense, and stopping the run. Sparty has a great QB who if he has a good day can deal Bama fits. Most say Bama is a double digit favorite.... and looking at this match-up on paper, I would agree but we know that cliché - they don't play on paper.
Bama counters with their own superstar - Derrick Henry - who is fresh off of a trip to NYC to collect the 2nd Heisman Trophy in Bama's history and the second during the Nick Saban era.
I won't bore you here with comparisons, but will tell you - MSU is very good against the run, and Bama is better. I suspect MSU will load the box in an effort to stop Derrick Henry. This is where the game will be won or lost. Simply this, if Bama O Line can make holes for Henry and Henry can rush for 150 or more, Bama should win. But wait a moment - Bama will also need to get pressure on Connor Cook, otherwise it may be a long day for Bama.
At 7pm on ESPN New Year's Eve, they will tee it up and before 2016 rings in - Bama or MSU will be moving to the finals.
I think it will be Bama. Surprise? I know I never pick against them -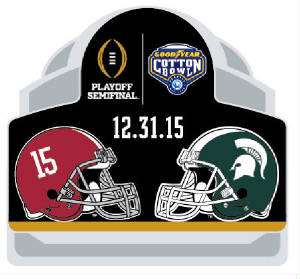 29 20
ROLL TIDE ROLL !!!!
Wed, December 30, 2015 | link
Friday, December 4, 2015
And the Season - continues !!

Bama, though not easy - took care of Business on the Plains in the Iron bowl to the tune of 29 -13 against and Auburn team that quiet frankly played better than most (including me) thought they would.
If Derrick Henry didn't win the Heisman, he certainly put himself as the front runner, with an amazing performance that included - MOST CARRY'S BY A BAMA BACK IN A SINGLE GAME, MOST IN AN IRON BOWL, MOST YARDS IN AN IRON BOWL BY A BACK, MOST MOST MOST !!! Moved among legends, with most 200 yard performances in a season - along with Bo and Hershel. WOW... and perhaps the most amazing - carried consecutive 14 times - where everyone in the stadium knew he was getting the ball and he still couldn't be stopped.
Also under the radar, Adam Griffith was true on 5/5 fg and 2 extra points. BIG for his confidence and for Bama's scoring potential. Bama's win moved them to the SEC Championship game VS SEC East Champ Florida.

Florida coming off a loss against in state rival FSU. In that game the Gators could never get their offense on track, scoring only on defense and that was 2 points on a safety. That is the reason Bama is over a 15 point favoriet in this game.

Florida and Bama have similar Defenses - Bama overall the better ranked, but Fla very close behind. There have been so many coaching changes since the Iron Bowl - among those, Kirby Smart to Georgia. Bama fans have held their collective breath, as this is not only a distraction, but will KS be with the Tide if needed through all the post season? Sources say yes!!! Big Sigh!!
To the Game at hand in Atlanta - I think Bama will be more conservative, considering Fla has trouble scoring - and I look for Fla to pull out all the stops and throw everything possible at the Tide Defense. Remember Coach Mac is familiar with Smart and Saban and their tendencies - so as Coach Bryant would say, expected the unexpected. How tired is Bama's Derrick Henry? Well one would have to think he is tired... and I fully expect Fla to stack the box against the run, because they do have a very capable secondary, that said, I think Coker will find himself not only checking into different plays, but I look for a big play from him and his receivers as they can expect to be in man much of the time.

My prediction, Bama will play consertative early and pull away in the end.


Gators 13 Bama 30
RTR
Fri, December 4, 2015 | link