I already lead a charmed life. Many times I have to pinch myself to make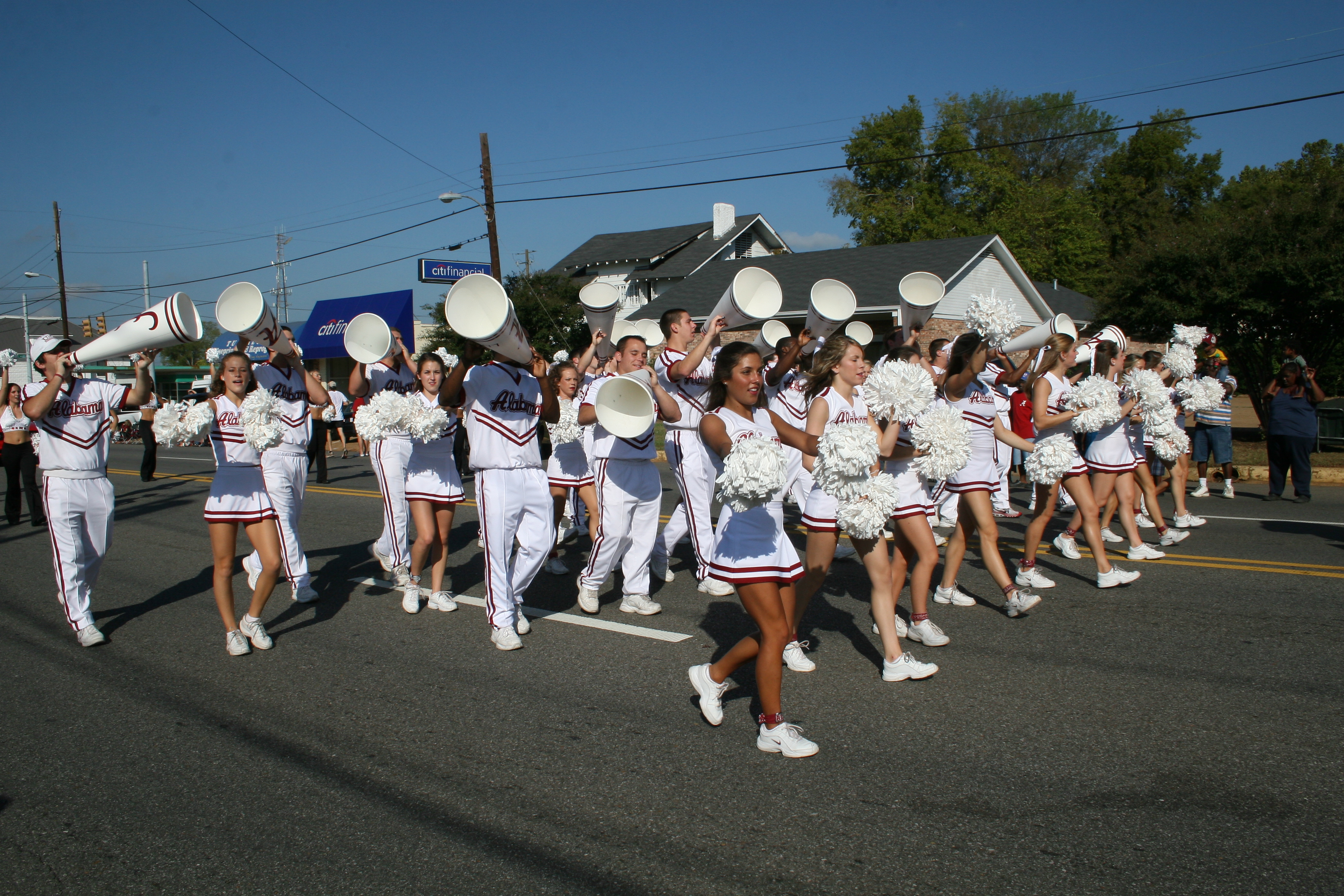 sure I am not dreaming. A wonderful family, plenty of necessities too many non necessities, good health, great wife…great kid, good looks…ahem, well perhaps I was dreaming a bit on that last one.
But this weekend, I added to that list of good fortunes in my short life. Saturday I had the privilege of being a part of the University of Alabama Homecoming Parade. So what!!!... many may say…and my answer to that is simply… WOW.
Of course you'd have to know me a little bit to understand but having been an Alabama fan all my life the team, the game, the University are all much larger than life. Although I was one of those "spoiled" Bama Fans, I grew up in an era without million dollar coaches, multimillion dollar television contracts, probation was something that happened to a person who had broken the law, not a school, and players played for pride, and class was not something that someone skipped, it was something preached to the players and the fans. There were few, if any talk radio shows, the coaching was left to the coaches and the second guessing took place among the Monday morning QBs at the local hang out. Sometimes you had rebuilding years…coaches weren't fired after bad games everyone remembered that the players wanted to win, just as badly as the fans wanted them too…and they were kids, yes just out of high school… playing for their families, the fans, the coaches and the University…. Not what round they were going in the NFL.
A lot has changed…indeed… but my passion for the game but College Football and especially Alabama Football, is still the most exciting, most fun, most unpredictable game in town.
Being a fan all of my life…nearing 50 years… J I have seen the great and the bad. I was fortunate enough to enjoy all of Coach Bryant's National Championships…and was also grateful to have been able to witness in person the 92 National Championship Game truly a game and experience I will never forget.
This past Saturday I was fortunate enough to add to that list, as I took a couple of my TideRides, my motorcycle and my truck and participated in the 2007 Homecoming Parade. Having seen the Homecoming parade as a spectator, I thought being involved would be much the same. Boy was I wrong, with my truck being driven by my nephew, Bryan Morgan, and his dad Jackie Morgan, a passenger in front of me, my wife and son, Michele and Justin respectively, walking with our banner in hand in front of them, we pulled onto University Blvd and I was amazed at the throngs of people…all of course clad in Crimson and White..fans, all of them, young, old, all colors all shapes all sizes…all there for one single purpose…to support their team!!!! As we tarried our way and I began to get comfortable with the pace, I begin to notice all of the youngsters…toddlers, adolescents, teens…ect…as they too were there to enjoy the atmosphere of College Athletics… to cheer to have fun…and as I rode through the streets and the little ones would wave and smile.. tears welled in my eyes… because I felt if only a smidgen somewhat personally responsible for that smile…and as I continued through the route, I reflected to all my Saturdays where I made certain I would be able to watch or listen to the Game… and I felt like the luckiest guy in the whole world, to be a part, even if on a small scale of something so GREAT.
Next year I hope to be back…and have my Mother Ride in one of the Tide Rides!!


Roll Tide