Thursday, October 24, 2019
Week 9 Homecoming Bama vs Arkansas
Bama handled business against Tennessee in their first night game at BDS. It came at a great expense as Tua went down on a tackle and had to leave the game. High ankle sprain is the diagnosis, surgery took place on Sunday. Prognosis is Tua is likely for LSU in 2 weeks.
Mac came in at QB and did well considering the circumstances, but it was obvious there was a fall off. This week since Mac has had time to prepare, I think we will see something different. Bama has so much talent in skill positions, I believe they will be able to handle Arkansas with some ease. But, with Tua out, teams are going to feel differently about playing Bama.
Bama's D held up against Tenn, but did give up a lot of yards on the ground. The D scored a TD on a 100 fumble return resulting in a 14 point shift. Had Tenn scored on that play, not only would the score have been closer, but that would have turned it into a game.
| | | |
| --- | --- | --- |
| Team Stats | Ark | Bama |
| Points Per Game | 24.7 | 48.7 |
| Points Allowed Per Game | 30.7 | 16.4 |
| Total Yards | 385.3 | 513.4 |
| Yards Passing | 250.4 | 347.0 |
| Yards Rushing | 134.9 | 166.4 |
| Yards Allowed | 412.9 | 321.0 |
| Pass Yards Allowed | 220.0 | 190.6 |
| Rush Yards Allowed | 192.9 | 130.4 |
| | | |
These stats basically tell the story that Bama should be able to dominate. Look for Bama to flex their muscles and impose their will on this young Arkansas team. Mac will run the offense but I expect less RPO and perhaps a more vanilla plan. Bama is not doing well at all on defensive 3rd downs - allowing the competition too many 3rd down conversions. Another concern is penalties. Young team, lack of focus? Whatever it is, it needs to be stopped.
Again, I expect Bama to handle this game - even if the field gets wet with 80% chance of rain in the forecast!


42 17
ROLL TIDE!!!!!!
Thu, October 24, 2019 | link
Thursday, October 17, 2019
Week 8 UT vs UA in Tuscaloosa
The Third Saturday in October
Any Bama fan worth his Crimson doesn't have to be reminded what a big day the Third Saturday in October is. Books have been written about it. Legends have been born, legends have been squashed, paintings have been made, dreams have been realized and dreams have been squashed. The legendary date is of course the Annual meeting of Alabama and Tennessee. Though the expansion of the SEC does at times take the game to either the 4th or 2nd Saturday, Bama fans will forever see this game as the beginning of Fall and the 3rd Saturday in October.
As a kid, I can vividly recall the voice of John Forney and Doug Layton painting the picture of Neyland Stadium with the leaves changing colors in the distance, the long shadows cast on the field the checkered end zone or the Ole Grey Lady (Legion Field). No other rivalry seems equal to Bama and the Vols. Of course there was Auburn, but for some reason Coach Bryant has a "mad on" for Tennessee and it always showed. The history of this game goes back to 1901 and that ended in a 6 – 6 tie. That somehow seems fitting with a rivalry of this magnitude.
The Alabama–Tennessee rivalry has been known for streaks. In the first major streak of the series, Bama won seven straight over the Vols from 1905 to 1913 (the two teams did not play in 1910 and 1911), outscoring the Vols 112–0 in the process.
Alabama is currently experiencing the longest winning streak of the series, twelve games, dating back to 2007. An eleven game Alabama streak (1971-1981) was broken in 1982 when Johnny Majors led the Vols to an upset victory over Bear Bryant and the Tide.
Alabama had a nine-game unbeaten streak from 1986 to 1994, including a tie in 1993 which was later forfeited due to NCAA sanctions. The streak was broken by Tennessee in 1995 when the Vols beat the Tide 41–14. Tennessee began their own seven game win streak that night, which was broken when Alabama defeated the Vols 34–14 in 2002. To-date, Tennessee is the only team to own seven consecutive victories over the Tide.
Bama comes into this ESPN 8:00 Kick off favored by 35 points. That is also a testament to how this game has lost some luster. Bama is undefeated for the season and Tenn is 2 – 4. The wins have come over Chattanooga and Miss State. The win against Ms. State was somewhat of surprise, as many thought they would drop that game too.
Bama is coming off a win last week against TAMU on the road to the tune of 47 to 28. Bama played well on Offense, and special teams played a role. One blocked punt was recovered for a TD and The Tide enjoyed good field position due to the returns of Waddle. Devonta Smith the star the week earlier was ejected for throwing a punch. He was retaliating, but the refs called what they saw which was Smith with a right hook. Coach Saban announced that Smith's lack of discipline resulted in a 15 yard penalty and Smith will be held out of the first half of the UT game.
Tennessee has yet to settle on a QB as one seems to pass better than the other and the other runs better. Based on Bama's run defense, the running quarterback may give the Tide some difficulties early. Tuscaloosa should be a lot of fun by the nighttime kickoff and I look for the Tide to Roll. Bama will just have too much talent and fire power for the Vols to keep pace.
Bama will win, but man 35 is a big margin.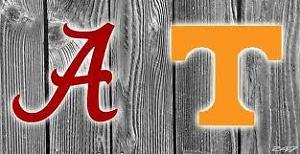 52 20
Roll Tide
Thu, October 17, 2019 | link
Friday, October 11, 2019
Week 7 Bama VS TAMU at Kyle Field
After a week off from beating Ole Miss, Bama is on the road for yet another CBS 2:30 Kickoff against the Aggies of Texas A&M. First a bit about the Ole Miss game. Bama played much like they have all year, scoring early and moving through the air at what appears with ease.
Tua accounted for 6 touchdowns. Devonta Smith… the hero in the walk off TD vs GA for the National Championship… had the best day of his career. 11 receptions – 274 yards and 5 touchdowns. NO that wasn't a typo 5!! Bama amassed 573 yards but they gave up 473 yards and 31 points. Of course they scored 59, but it just seems odd seeing a team move the ball so well against a Nick Saban defense. Welcome to the new Alabama Football model. I am not complaining at all, I love the high powered offense…it does at times make me cringe when a team has an equal amount of first downs, yards etc. Now to TAMU.
Bama is favored in this road trip by 17 points. I read where a simulation picked Bama to win picked Bama 69 – 42. Now I don't think that will be the case, but many are thinking Bama more than covers.
TAMU is averaging 32 Points per game, but has played some tough competition. Their running game has faltered – averaging 2 yards per attempt. Bama of course has relied more on the passing game, but the run seems to be a bit better against Ole Miss, but I am not sure that's a good measure. Bama is averaging 52 points per game. I had to check that again. J Allowing 15 per game. TAMU is allowing 18 points per game, and many felt their defense was going to be their biggest asset this year.

For some reason, this game makes me a bit nervous. Both teams coming off Bye weeks, and of course playing at Kyle field is not only loud but intimidating. Tua has been in big games on the road before of course, and I look for him to continue his march to the Heisman. I expect it to be close early as Bama feels their way then opens it up and heads to victory. Look for Bama's defense to try to take Mond out of the pocket with pressure.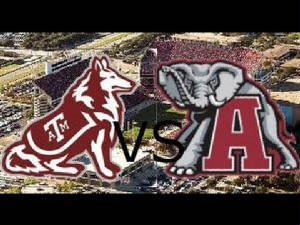 20 38
ROLL TIDE !
Fri, October 11, 2019 | link