Thursday, December 1, 2016
Week 14 Bama Vs FLA SEC Championship

Bama Vs FLA SEC Championship
Before jumping headfirst into the SEC Championship game a few words about the Iron Bowl. Though the score didn't necessarily reflect "THE GAME" Bama's defense dominated. It bailed the Offense out of a couple of mistakes. Jalen Hurts threw two interceptions and though Bama recovered, he and others put the ball on the ground too many times. Bama didn't lose any of the fumbles, none the less with a bounce here and there, we would be looking at 5 or 6 turnovers. I say that for a couple of reasons. Despite of the fact that Bama had two turnovers that turned into field goals, this defense has kept opponents out of the end zone since OCTOBER.
Now on to a game that 25 years ago, Bama fans FEARED! As Coach Stallings said, we have won all our games and still haven't won anything yet. Ironically - those teams that faced off 25 years ago, are again in the now historical SEC Championship game.
Another parallel, this Bama D - is being compared and in some cases to that 1992 Stallings team. Bama is undefeated - Florida with Jim McElwain is 8-3. That parallel I mentioned stops at that point of the defense. Florida has been riddled with injuries all year, including the quarterback position. Those injuries along with the lack of offense resulted in the losses. Keep in mind this is McElwains second visit to the SEC Championship game, a feat unprecedented for a "rookie" SEC coach.

Bama still ranked #1 in the Nation is a 24 point favorite by the folks in Vegas. YES 24! Only once in the quarter century history has another team been a heavier favorite.
There really is not much to say here, other than Bama is playing for all the marbles, a loss could result in not being included in the final 4. Florida is playing for much less stakes. This alone is not pressure, but motivation. A couple of the Bama players said in interviews after the Iron Bowl "This was just another game". Reporters seemed to think that is a crime to call the Iron Bowl - JUST ANOTHER GAME - I think it is the mentality of this team, as they continue their march toward another National Championship.

I look for Bama to win, and almost cover the spread.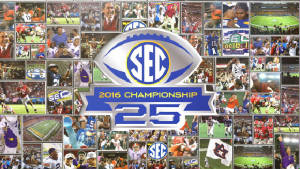 12 33

ROLL TIDE
Thu, December 1, 2016 | link
Monday, November 21, 2016
81st Iron Bowl
I have to say, Coach Saban certainly wouldn't be very proud of me and my preparation for the Mocs last Saturday. You don't have to look any further than here, to know
1. I didn't give it much thought -
2. I thought Bama could just show up
3. I had zero excitement
4. I was a bit shocked at the performance and score.
As I watched the Tide sleepwalk through the win on Saturday against the Chattanooga Moccasins I found myself being critical of the team. A trait I pride myself in seldom doing. Then it hit me like a Moc on a rock - I was being critical of the team for doing the exact thing I as a fan had done. Oh, I do know that whatever I do, say or superstitions I possess have nothing to do with the outcome. But who am I to be critical about the team being flat, when I as a fan - was FLAT. Plus, when did a 31 - 3 victory become something to be scoffed at? Rhetorical of course.
But me and likely most Bama fans were dreaming of The Iron Bowl, The SEC Championship game, The Playoff and subsequent National Championship game - BUT WAIT - HOLD UP!!!! There are games to be played and hopefully won!!! The cliché - one game at a time!!! The Chattanooga Mocs are the proof.....
So now we moved to The Iron Bowl. Or so called because it was once played in Birmingham "Iron City". The moniker will never go away, but the game has changed. Home and home an no longer a 50/50 split on the tickets. (Some of you are too young to remember it was once this way.)
Auburn comes in ranked #13 in the nation and a 7-3 record. The Crimson Tide 10-0 #1 in the Nation ridding a 22 game win streak. Auburn had a slow start, but rebounded to have a very respectable record and a defense that is good. Bama will have its hands full.

Bama of course has much more to lose than Auburn, but I think that will be a motivation. Mention the Iron Bowl to folks in the state, and most will immediately recall this game or that game - and usually those are "upsets" and usually involve a BIG PLAY that swung the game. The old saying "throw out the record books is not really true. The favored team has won 16 of the last 20 Iron Bowls played. 80%. Vegas says Bama is 18 points better - or at least that is the betting line. I think that may be a bit too high, but I do look for Bama to win. It will be close early, but Bama will force its will late in the game.
In the 81st Iron Bowl -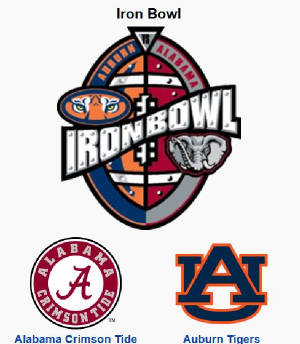 27 15
ROLL TIDE
Mon, November 21, 2016 | link
Wednesday, November 9, 2016
WEEK 10 Bama VS Miss St
Bama Rolls - or at least - on Defense, and does what is necessary on Offense to come out of Baton Rouge with a 10 - 0 victory. No way would most have thought Fornette would have only gotten 35 yards rushing. Bama shut him and the Coach O - offense down.
Unfortunately the streak of non offensive touchdowns ended. However Fitzpatrick picked off an errant pass.. to continue the turnover streak. Bama moves to 9 and 0 for the season and extended it's undefeated streak to 21 game. Miss State comes in to Saturday's game with a 4-5 record, and ridding high on the upset of TAMU. Yes, TAMU the then #4 team in the nation.
Bama is favored and should win this match handily - playing before the home crowd and coming off a big road win at LSU. However.... Who remembers 1980? The mighty Crimson Tide visited the Bullies at Jackson Mississippi, were Ranked #1 with the expectations of a victory, and came away with one of the biggest upsets in the history of this series 6 - 3.
Do I think that will happen Saturday? Anything is possible, ask Hillary, however... I look for Bama to take this one with a good margin on their way to 22 in a row.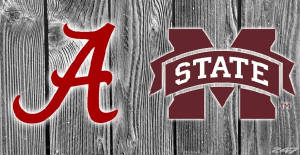 41 16
Wed, November 9, 2016 | link
Wednesday, November 2, 2016
WEEK 9 Bama VS LSU
Not much one has to say about this game that hasn't been said or written.
Both teams had a week off to prepare for this heavyweight bout.

| | | |
| --- | --- | --- |
| | BAMA | LSU |
| Points Per Game | 43.9 | 29.9 |
| Points Allowed Per Game | 14.9 | 15.0 |
| Total Yards | 498.0 | 423.7 |
| Yards Passing | 233.3 | 183.9 |
| Yards Rushing | 264.8 | 239.9 |
| Yards Allowed | 274.5 | 313.9 |
| Pass Yards Allowed | 204.4 | 209.7 |
| Rush Yards Allowed | 70.1 | 104.1 |
Bama with a road win over the #4 TAMU Aggies and LSU, with a win Ole Miss. As you can see, these teams are somewhat evenly matched. Bama certainly leads in the scoring category.
Bama continues to impress with a balanced offense and a defense that seems to find opportunity in many ways. The streak of scoring a Defensive touchdown in every game continued last week. It's hard to imagine it continuing all season, but - this defense is special and they believe it can, so I am certainly not going to doubt them.
After we week off, I suspect both teams will take a few minutes to adjust but I look for it to be a close game. Leonard Fournette had a great game against Ole Miss and looks to be the back everyone expected. Last year Bama held Fornette to 31 yards. If Bama doesn't hold him under 100 it could be a long day.
The game is of course a prime time, CBS game in Death Valley - for that reason many think LSU will upset the Tide. Bama has fared well in Baton Rouge. Vegas has Bama as a 7-8 point favorite.
I think the Bama Offense will be able to move the ball and the Defense will do its job and shut down Fournette.
31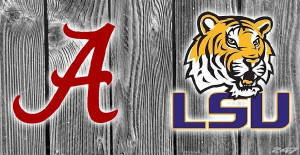 20
Wed, November 2, 2016 | link
Wednesday, October 19, 2016
Week 8 Bama VS TAMU
Before talking about this game - WOW -Bama continues to impress. I'm one of those guys who doesn't like to brag... for fear of the jinx. However, this Bama team has something special. Both the Defense and Special Teams, added a score to an offense that ran the ball for over 400 yards against the VOLS. Tennessee was never really in the mix. Bama DOMINATED.
This was said to be the game where Bama would prove itself, of course now the pundits say TAMU is that game. Bama is back in Tuscaloosa after a stretch on the road. A good thing? Who knows this team seems to play as well or better on the road as at home.
TAMU - 7 point opening win vs UCLA - and wins against Arkansas and Tennessee, come into this game undefeated. Bama of course is undefeated as well. Like the Tennessee game last week, this game wreaks of a possible upset. Bama rides a 19 game winning streak, and getting closer to the seasons end, the pressure of winning becomes enormous. Bama seems unbeatable, but we know once a team becomes "invincible" someone knocks them off.
From the stat sheet, the big number that jumps out at me is the rushing game - in SEC games..
Alabama's Rush defense allows 69.5 per game vs
A&M's Rush defense allows 200 per game
Again, this is the biggest or most significant stat that stands out.
TAMU QB Tervor Knight has some familiarity with Bama - as he torched the Bama D for 348 yards going 22-34, in the 2013 Sugar Bowl with Oklahoma. Along comes Baker Mayfield and Knight hitches his wagon to TAMU.
TAMU will be really fired up for this game, and I think they will play Bama well. But when you really look at it and consider the Vols were beaten by TAMU in OT - and got 7 gimmies from the VOLS, you have to think Bama will be too much for them.
Knight seems more elusive than perhaps any QB Bama has faced so far, putting definite pressure on the Defense and I expect them to get some points and some yards both scrambling and passing to those big wide receivers.
Vegas disagrees saying Bama is 19 points better than TAMU. I think it will be closer, but Bama pulls away in the end.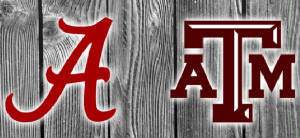 42 31
Wed, October 19, 2016 | link