Wednesday, January 4, 2017
Bama VS Clemson National Championship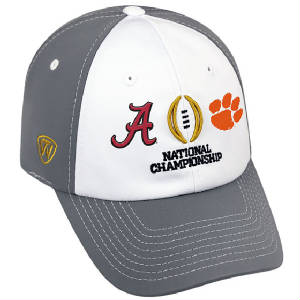 Pinching myself – 14-0. 26 in a row – and one more to go!!! Considering the amount of time I have spent watching Bama (and Football in general) Football, I don't recall a run like this in my life. Of course I know Oklahoma owns the longest win streak, but that's not what I am talking about. I am writing this on the 10th Anniversary of Nick Saban being hired at Alabama. The only way to describe the past ten years is DOMINATE – DYNASTY – STIFLING – OVERWHELMING… the list could go on and on. Saban has done a phenomenal job, and there is no end in sight. In fact as long as he continues to get the best recruits – I don't see an end to the domination.
Every year you hear the press say this is Sabans best Defense – yet the next year they are saying the same thing. Though a different era – it reminds me of the 70's when Bear would reload instead of rebuild. And here we are, for the 2nd year in a row, facing Clemson in the National Championship Game. WOW…. I pinch myself again.
Washington fell to Bama in the first round of the playoffs in spite of The Tide not having a stellar performance on Offense. In fact Jalen Hurts was held to a season low of 57 yards passing. But the DEFENSE – well they played LIGHTS OUT! Scored a TD – 15th this year! WOW!
Clemson SHUT OUT – the Ohio State Buckeyes – in a game that really didn't include much offense from the Buckeyes. Credit Clemson's defense as they stymied OSU all day. In the meantime Clemson led by their QB Deshaun Watson scored 31 points. Thus setting the stage for a rematch of last year's NCG – The Tigers and The Tide!
Bama comes in as a 6 point favorite however, the big money in Vegas is going on Clemson. What does that mean? Well I think it means, everyone watched the playoff and saw Clemson dominate OSU and based on that – the revenge factor and "Been there before" – that Clemson is ready to dethrone the might Crimson Tide? Now throw in another caveat – Bama is without the Mastermind Offensive Coordinator Lane Kiffin – WHAT? Yes, his "MUTUALLY agreed upon" exodus occurred the day after the playoff game. Personally, I don't think this move will matter a lot. Why? Well, I have to think that Steve Sarkisian has been in on much of what is going on with the Bama offense and don't forget he comes from USC – and he and Kiffin were big buds. And if I am not mistaken, David Cutcliff was the Tennessee OC who left UT before their NCG in 1998. But let's face it, in those days most people didn't know who the OC was anywhere. As we didn't have the social media outlets of today. Nonetheless – I think there may be a hiccup or two, but I don't think it will be a deciding factor.
The deciding factor – I think will be Defense! The old saying "defense wins championships". No doubt Alabama has the best Defense in the game. So no surprise, Bama to win, will have to stop the run, and be able to run the ball, thus control the tempo – and shorten the game. And pressure QB D. Watson. Can they do it? I think so.
So, I don't look for a 45 – 40 game like last year. In fact I think if it becomes a scoring fest, Bama will have a difficult time keeping pace. So I look for a lower scoring game, but Bama to come out on top with another National Championship.
23 17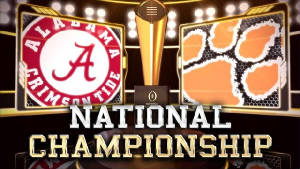 Roll Tide !!!
Wed, January 4, 2017 | link
Thursday, December 29, 2016
Semi Finals Playoff Bama Vs Washington
Bama basically dominated Florida in the SEC Championship Game. Scoring on Defense, and special teams. As the game wore on, you could tell Bama was dominating on both sides of the ball. 54 - 16 was the final score, but it honestly seemed it could have been worse. Now with the SEC Championship behind them, Bama plays yet again in Atlanta, in the Peach Bowl who is hosting the Playoff Semi Finals.
Where were you 91 years ago? Well, you likely weren't here... but the Bama Vs Washington game then, has been given the label of the Football Game that changed the South. Bama won that 1926 ROSE BOWL game by a score of 20 -19. Bama was a heavy underdog - but pulled off the big upset. Fast forward to New Years Eve 2016 Bama VS the Huskies and the roles are reversed. What does that mean, well nothing really, but it is fun to look at the history of the series between these two teams.

Bama is the undisputed top ranked team in the country. Washington comes in with one loss and ranked number 4. Most think Bama will dominate the Huskies and Vegas has the Huskies as a 14 point underdog. But don't for a minute think Washington is soft, or a team that isn't talented. They are right up there with Bama in scoring, and defensive stats.
Rushing offense
1. New Mexico 360.9
14. Alabama 245.0
36. Washington 210.0
Passing offense
1. Texas Tech 463.0
31. Washington 267.1
68. Alabama 226.3
Total offense
1. Louisville 566.6
22. Washington 477.2
26. Alabama 471.3
Scoring offense
1. Louisville 45.3
4. Washington 44.5
13. Bama 40.5
Rushing defense
1. Alabama 63.4
2. Wisconsin 96.9
17. Washington 123.5
Passing defense
1. Michigan 135.9
15. Alabama 184.5
22. Washington 192.6
Total defense
1. Alabama 247.8
2. Michigan 252.7
10. Washington 316.2
Scoring defense
1. Alabama 11.8
2. Michigan 12.5
8. Washington 17.0
Turnover margin
1. Washington +21
36. Alabama +5
Penalties
1. Navy 30
38. Alabama 66
55. Washington 70
3rd down offense
1. Navy 55.7%
15. Alabama 47.5%
24. Washington 45.1%
3rd down defense
1. Michigan 20.9%
6. Alabama 29.5%
9. Washington 30.7%
Sacks by
1. Florida State 47
3. Alabama 45
13. Washington 37
Red Zone Convers
1. Florida State 96.3%
4. Washington 94.7%
28. Alabama 88.7%
As you can see from the stats, on paper this should be a close game - perhaps a defensive battle. A couple of things that really jump out at me - Turnover Ratio - Washington is a + 21 Bama +5. When you think of all the scoring on D that Bama has done, it should be clear that Bama is prone to turn the ball over. In this as most games, Bama can ill afford turnovers. If Hurts has a big day and protects the game, it could be a Bama blow out, otherwise, Bama may be in for a tussle.
By the way, the last time Bama played Washington was in the Sun Bowl - 1986. Bama ranked 13 won that game vs #12 Washington by a score of 28 - 6.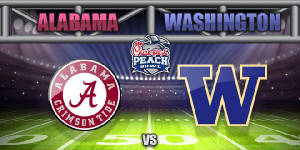 27 17
Roll Tide !!!

Thu, December 29, 2016 | link
Thursday, December 1, 2016
Week 14 Bama Vs FLA SEC Championship

Bama Vs FLA SEC Championship
Before jumping headfirst into the SEC Championship game a few words about the Iron Bowl. Though the score didn't necessarily reflect "THE GAME" Bama's defense dominated. It bailed the Offense out of a couple of mistakes. Jalen Hurts threw two interceptions and though Bama recovered, he and others put the ball on the ground too many times. Bama didn't lose any of the fumbles, none the less with a bounce here and there, we would be looking at 5 or 6 turnovers. I say that for a couple of reasons. Despite of the fact that Bama had two turnovers that turned into field goals, this defense has kept opponents out of the end zone since OCTOBER.
Now on to a game that 25 years ago, Bama fans FEARED! As Coach Stallings said, we have won all our games and still haven't won anything yet. Ironically - those teams that faced off 25 years ago, are again in the now historical SEC Championship game.
Another parallel, this Bama D - is being compared and in some cases to that 1992 Stallings team. Bama is undefeated - Florida with Jim McElwain is 8-3. That parallel I mentioned stops at that point of the defense. Florida has been riddled with injuries all year, including the quarterback position. Those injuries along with the lack of offense resulted in the losses. Keep in mind this is McElwains second visit to the SEC Championship game, a feat unprecedented for a "rookie" SEC coach.

Bama still ranked #1 in the Nation is a 24 point favorite by the folks in Vegas. YES 24! Only once in the quarter century history has another team been a heavier favorite.
There really is not much to say here, other than Bama is playing for all the marbles, a loss could result in not being included in the final 4. Florida is playing for much less stakes. This alone is not pressure, but motivation. A couple of the Bama players said in interviews after the Iron Bowl "This was just another game". Reporters seemed to think that is a crime to call the Iron Bowl - JUST ANOTHER GAME - I think it is the mentality of this team, as they continue their march toward another National Championship.

I look for Bama to win, and almost cover the spread.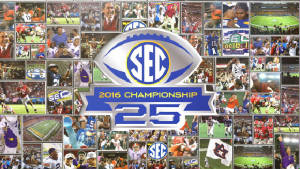 12 33

ROLL TIDE
Thu, December 1, 2016 | link
Monday, November 21, 2016
81st Iron Bowl
I have to say, Coach Saban certainly wouldn't be very proud of me and my preparation for the Mocs last Saturday. You don't have to look any further than here, to know
1. I didn't give it much thought -
2. I thought Bama could just show up
3. I had zero excitement
4. I was a bit shocked at the performance and score.
As I watched the Tide sleepwalk through the win on Saturday against the Chattanooga Moccasins I found myself being critical of the team. A trait I pride myself in seldom doing. Then it hit me like a Moc on a rock - I was being critical of the team for doing the exact thing I as a fan had done. Oh, I do know that whatever I do, say or superstitions I possess have nothing to do with the outcome. But who am I to be critical about the team being flat, when I as a fan - was FLAT. Plus, when did a 31 - 3 victory become something to be scoffed at? Rhetorical of course.
But me and likely most Bama fans were dreaming of The Iron Bowl, The SEC Championship game, The Playoff and subsequent National Championship game - BUT WAIT - HOLD UP!!!! There are games to be played and hopefully won!!! The cliché - one game at a time!!! The Chattanooga Mocs are the proof.....
So now we moved to The Iron Bowl. Or so called because it was once played in Birmingham "Iron City". The moniker will never go away, but the game has changed. Home and home an no longer a 50/50 split on the tickets. (Some of you are too young to remember it was once this way.)
Auburn comes in ranked #13 in the nation and a 7-3 record. The Crimson Tide 10-0 #1 in the Nation ridding a 22 game win streak. Auburn had a slow start, but rebounded to have a very respectable record and a defense that is good. Bama will have its hands full.

Bama of course has much more to lose than Auburn, but I think that will be a motivation. Mention the Iron Bowl to folks in the state, and most will immediately recall this game or that game - and usually those are "upsets" and usually involve a BIG PLAY that swung the game. The old saying "throw out the record books is not really true. The favored team has won 16 of the last 20 Iron Bowls played. 80%. Vegas says Bama is 18 points better - or at least that is the betting line. I think that may be a bit too high, but I do look for Bama to win. It will be close early, but Bama will force its will late in the game.
In the 81st Iron Bowl -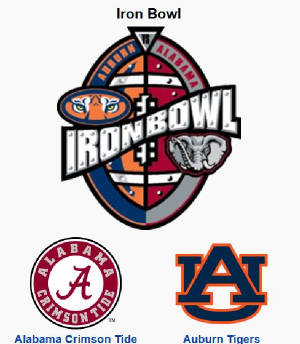 27 15
ROLL TIDE
Mon, November 21, 2016 | link
Wednesday, November 9, 2016
WEEK 10 Bama VS Miss St
Bama Rolls - or at least - on Defense, and does what is necessary on Offense to come out of Baton Rouge with a 10 - 0 victory. No way would most have thought Fornette would have only gotten 35 yards rushing. Bama shut him and the Coach O - offense down.
Unfortunately the streak of non offensive touchdowns ended. However Fitzpatrick picked off an errant pass.. to continue the turnover streak. Bama moves to 9 and 0 for the season and extended it's undefeated streak to 21 game. Miss State comes in to Saturday's game with a 4-5 record, and ridding high on the upset of TAMU. Yes, TAMU the then #4 team in the nation.
Bama is favored and should win this match handily - playing before the home crowd and coming off a big road win at LSU. However.... Who remembers 1980? The mighty Crimson Tide visited the Bullies at Jackson Mississippi, were Ranked #1 with the expectations of a victory, and came away with one of the biggest upsets in the history of this series 6 - 3.
Do I think that will happen Saturday? Anything is possible, ask Hillary, however... I look for Bama to take this one with a good margin on their way to 22 in a row.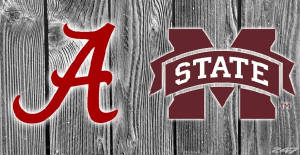 41 16
Wed, November 9, 2016 | link