Friday, January 8, 2016
Pinch me - NC 16 a possibility on Monday.
WOW - I know like most Bama fans, each year we dream of playing for a National Title, it started with me in the 60's with Coach Bryant. And most years, if Bama wasn't playing for the National Title - they were near the top of the fray. Stallings brought the Tide another one, then there was a drought... But no more - Bama is again either in the NC game or close. Of course things have changed in the selection process, but I promise you young folks out there, make certain you sit back and enjoy these times, they are special.
Bama will be taking on the #1 Clemson Tigers on Monday the 11th, in what should prove to be a great game. Clemson is undefeated, Bama has one loss. Bama has the best Defense in many categoreys with Clemson ranking close behing with a stingey defense of their own. Bama dismantled MSU by a score of 38 to 0 - surprising many, including yours truly. My favorite part of that game was a reporter asking - "Coach Saban, do you realize Bamas score of 38 is greater than the number of yards rushing by MSU?" That pretty much tells the tale. Clemson held Oklahoma scoreless in the second half while reeling off 21 points of their own to cruse to a win by the score of 37 - 17.

Not much I can say here that hasn't been said - Clemson has the type QB and offense that has notoriously haunted the Bama D and Coach Saban. We will see if they have solved that puzzle. Most are picking Bama, Vegas line is 6 or so. Clemson and Coach Swenny is clinging to the underdog role, and who could blame them.
Bama will need to slow the The Tigers down early - and they have the defenders to do it.
Prediction - Bama brings home 16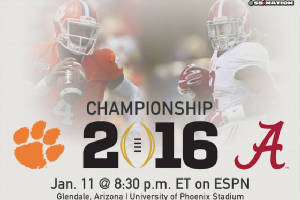 Clemson 28 Bama 37
Fri, January 8, 2016 | link
Wednesday, December 30, 2015
2015 Cotton Bowl - The Tide is High
12/30/2015
Another first for Bama - as of tomorrow, Bama will be the only team to make the college playoffs 2 times in a row. Of course this is only the second one and Bama is squaring up against the Spartans of Michigan State.
This game has all the makings of a perennial game - #2 vs #3 - both teams concentrate on Defense, and stopping the run. Sparty has a great QB who if he has a good day can deal Bama fits. Most say Bama is a double digit favorite.... and looking at this match-up on paper, I would agree but we know that cliché - they don't play on paper.
Bama counters with their own superstar - Derrick Henry - who is fresh off of a trip to NYC to collect the 2nd Heisman Trophy in Bama's history and the second during the Nick Saban era.
I won't bore you here with comparisons, but will tell you - MSU is very good against the run, and Bama is better. I suspect MSU will load the box in an effort to stop Derrick Henry. This is where the game will be won or lost. Simply this, if Bama O Line can make holes for Henry and Henry can rush for 150 or more, Bama should win. But wait a moment - Bama will also need to get pressure on Connor Cook, otherwise it may be a long day for Bama.
At 7pm on ESPN New Year's Eve, they will tee it up and before 2016 rings in - Bama or MSU will be moving to the finals.
I think it will be Bama. Surprise? I know I never pick against them -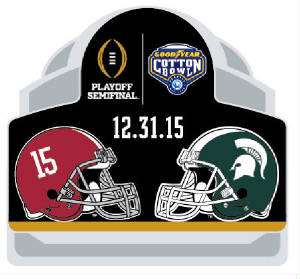 29 20
ROLL TIDE ROLL !!!!
Wed, December 30, 2015 | link
Friday, December 4, 2015
And the Season - continues !!

Bama, though not easy - took care of Business on the Plains in the Iron bowl to the tune of 29 -13 against and Auburn team that quiet frankly played better than most (including me) thought they would.
If Derrick Henry didn't win the Heisman, he certainly put himself as the front runner, with an amazing performance that included - MOST CARRY'S BY A BAMA BACK IN A SINGLE GAME, MOST IN AN IRON BOWL, MOST YARDS IN AN IRON BOWL BY A BACK, MOST MOST MOST !!! Moved among legends, with most 200 yard performances in a season - along with Bo and Hershel. WOW... and perhaps the most amazing - carried consecutive 14 times - where everyone in the stadium knew he was getting the ball and he still couldn't be stopped.
Also under the radar, Adam Griffith was true on 5/5 fg and 2 extra points. BIG for his confidence and for Bama's scoring potential. Bama's win moved them to the SEC Championship game VS SEC East Champ Florida.

Florida coming off a loss against in state rival FSU. In that game the Gators could never get their offense on track, scoring only on defense and that was 2 points on a safety. That is the reason Bama is over a 15 point favoriet in this game.

Florida and Bama have similar Defenses - Bama overall the better ranked, but Fla very close behind. There have been so many coaching changes since the Iron Bowl - among those, Kirby Smart to Georgia. Bama fans have held their collective breath, as this is not only a distraction, but will KS be with the Tide if needed through all the post season? Sources say yes!!! Big Sigh!!
To the Game at hand in Atlanta - I think Bama will be more conservative, considering Fla has trouble scoring - and I look for Fla to pull out all the stops and throw everything possible at the Tide Defense. Remember Coach Mac is familiar with Smart and Saban and their tendencies - so as Coach Bryant would say, expected the unexpected. How tired is Bama's Derrick Henry? Well one would have to think he is tired... and I fully expect Fla to stack the box against the run, because they do have a very capable secondary, that said, I think Coker will find himself not only checking into different plays, but I look for a big play from him and his receivers as they can expect to be in man much of the time.

My prediction, Bama will play consertative early and pull away in the end.


Gators 13 Bama 30
RTR
Fri, December 4, 2015 | link
Friday, November 27, 2015
The Iron Bowl - Bama Vs Auburn
Wow, and the regular season comes to a close - first my apology for not showing for the past couple of weeks, a minor health issue now resolved helps me find my way back. Since last here, Bama of course continues to roll with wins over Miss State and SC Charlotte. Bama looked good in both - they seem very focused on the task at hand no matter who the opponent.

Though a couple of injuries have occurred along the way, the most impact would be Kenyan Drake, who broke his arm on special teams, making a tackle. Should Bama make it to the SEC Champ game, he may be good to go.

This week Bama is on the road in the Loveliest Village - to take on the Tigers of Auburn. The Iron Bowl... College footballs bigges rivalry :)
So here we are - Auburn can play the role of spoiler to keep Bama out of the hunt for the playoffs.
Looking at this one on paper, The Crimson Tide holds a decided advantage. However, as they say the game isn't played on paper. Alabama's D must avoid the big play from the Auburn O and expect them to pull out all the stops, with a nothing to lose and ever-thing to gain attitude. I suspect Auburn will try to pass to open the run. This group of Bama D-backs have matured a lot this year, and while I do believe they may give up the occasional toss and catch, I don't believer Auburn can be consistent. I believer this Bama front 7 is able to stop the run and pressure like no other Bama D Auburn has faced. Plus in the 5 games Alabama has won since Saban came on board the average score is Bama 42 Aub 14. In the 3 losses, the average score is Auburn 26 Bama 22. Either way I like Bama in this one to come on strong going away by as score of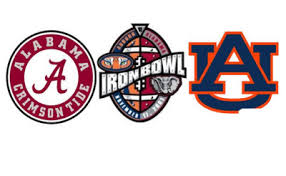 Bama 40 - Auburn 20
ROLL TIDE !!!!
Fri, November 27, 2015 | link
Thursday, November 5, 2015
Game of the Centruy part 3 --- Bama vs LSU
Recap - Bama vs Tenn
Closer than most expected - Bama 19 Tenn 14 . The biggest things in this game to me, -- Bama's last minute drive to take the lead - and the play of Jake Coker who was 21-27 for 247 yards. Bama again looked great on defense, and though the score is not indicative, the Offense looks like they are finding themselves. Also, I saw a team that looked tired, and at times flatfooted.... Hopefully the week off will refresh Bama with fresh legs and minds for the task at hand LSU.
How many games of the Century can you have? Think back - Bama vs LSU a few years back - the game of the century - the rematch in the NC Game - Game of the century - and this Saturday - Bama ranked #4 and LSU ranked #2 in the first Playoff Ranking of the season, tee it up in Bryant Denny Stadium at 7pm on CBS.
Big game ? You bet - ESPN College Game day will be in T-town for the 2nd time this year. As if the game itself were not enough - RAIN - yep, James Spann says the game will see rain, and possible TStorms.
Stats - these two teams look so much alike - relying on Defense and the Running game - in fact when you look at the stats, it is almost like looking in the mirror.
Clichés - Pick one - it applies. And that said - Bama has a simple yet difficult task. Stop the run on Defense, be able to run the ball on offense - avoid turnovers and win the game. LSU, however has a lot to say about that. The LSU offense hardly ever turns the ball over - in fact their QB has yet to throw an int. Very impressive.
If there is a chink in the armor of LSU, it is the same as the one in Bama's - the secondary. LSU (like Bama D's of the past) is prone to have busted coverage, allowing teams to make and often score on those long plays.
As much as the RB's Henry and Fournette will have a big say in this game, Bama will need Jake Coker to be consistent - protect the ball and make some plays with his legs.
My PICK
Bama 26 LSU 22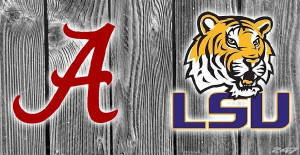 Thu, November 5, 2015 | link