Monday, January 7, 2013
Game Day 2013 BCS National Championship Game in Miami FLA
No way - absolutely no way, when I started this blog 7 or so years ago, would I have believed I would be saying "I am in Miami to witness my 4th BCS Championship Game, with BAMA." And three of them in the last 4 years. Nothing short of amazing. So now we come to GAME DAY. Tide and Irish - so much has been written ... so much has been talked about.
Fearless prediction - I think Bama is more than capable of winning this game, and I think Notre Dame is as well, however I think Bama has more talent per position than then Irish and that will be the difference. But, I am not one of thos fans who thinks the Tide will blow the Irish away. Bama in a close one.
ALABAMA 20 - Notre Dame 16 - ROLL TIDE
Mon, January 7, 2013 | link
Saturday, December 29, 2012
BAMA PLAYING FOR National Championship 15 - VS NOTRE DAME
In a Donnie-brook Bama managed to score often and score late on Georgia and pull a victory from the jaws of defeat by a score of 32 - 28 as Bama racked up another SEC Championship. And as fate would have it Bama watched the teams above tumble and now finds themselves ranked #2 in the nation and headed to Miami to challenge the Fighting Irish of Notre Dame for the National Championship.
As a Bama fan, all I can say is WOW, this is the stuff of which dreams are made. Both programs have a storied history - the stuff legends are made of. Rudy couldn't have scripted this one any better. In an time where offenses and scores of 77 -72 seem commonplace - these two vaunted Defenses will be sparing in what is surely emulate a heavyweight bout, as they try to claim the FBS NC for 2012.
Bama is favored by anywhere from 8.5 to 10 by the odds-makers. But odds-makers don't play the game and the teams do. Many say Notre Dame is overrated and Bama will win going away. Regardless, Notre Dame is undefeted in a time when undefeated is UNCOMMON! Bama of course has a single loss to TAMU. Bama is going for the repeat and ND hasn't been to the big game in over 2 decades.
Something more amazing than all this? Yours truly is going. I am so blessed to have had the opportunity to attend this my 4th NCG the second with my amazing wife Michele, and amazingly all three I've attended we came away victorious.
Of course I will have my fearless prediction prior to the game, so check back. In the mean time, I hope you had an amazing Christmas and 2013 will be a fantastic year for you and your families. ROLL TIDE !!! Oh and I know you have seen it already, but Daniel Buckhannan a dear friend has acheived stardom status with 8 million hits on the youtube of him giving tix to his dad for Christmas. It will make you cry no matter how many times you watch. I envy him, getting to see a game like this with is dad. WOW MEMORIES! Dan and Don, have fun, hope to see you in Miami - Click the link and see if you can keep from tearing. "We are going to the game Dad! We are going to the game!"
Sat, December 29, 2012 | link
Wednesday, November 28, 2012
Week 14 THE SEC TITLE GAME VS GEORGIA
It was perhaps the worst and the best Iron Bowl I have ever seen. Bama of course came out on top by the tune of 49 to 0, and Auburn showing nothing on offense and or defense. The Tide made good on it's continued mission of converting on 3rd downs with 11 in a row and scored on its first 6 drives.
Auburn never really threatened as Bama drove in the final stanza to the Red Zone and took a knee. In my opinion, that act of humility was a charitable one considering another score would have made it the worst whipping by either team in it's 57 year history. Bama holds that record with a 55 – 0 win decades ago.
I would imagine that coach Saban was happier than he showed, as his team in a machine like fashion took care of business in the 57th Iron Bowl in Tuscaloosa.
I feel certain Coach Saban was hardly off the field at BDS when visions of National Championships were dancing in his head…OH WAIT… I was about to jump on the media bandwagon of BAMA VS NOTRE DAME for the National Championship – there is other business to tend to. It's that little matter of the SEC Championship game to be played in 3 days in Atlanta.
Bama and Georgia will be squaring off with the winner certain to dance with Notre Dame in Miami in January for all the marbles. Both teams come into this game with one loss each, Steve Spurrier's Gamecocks beat Georgia pretty solidly and Bama met a fellow called Johnny Football who left them with a mark in the loss column. These teams are somewhat of a mirror image of each other. In fact Aaron Murray leads the nation in pass efficiency and AJ McCarron is only a few percentage points behind. Ga is however a bit vulnerable to the run and Bama perhaps suspect in the secondary, showing that in the LSU and TAMU games.
Bama MUST get pressure on Murray causing him to move around in the pocket and avoid turnovers. If they do, I feel they can win. If not…. Bama could have their hands full. Bama seems to be taking it's typical attitude of business as usual approach as evidenced by McCarron's quotes to the media, "It's another game. That's what everybody needs to remember. It's just another Saturday." And "I think that's what hurt us in the (Nov. 2011) LSU game, making it bigger than it was. We've just got to go do our job."
I couldn't agree more – Take care of business.
If the Tide does that.... I'm pretty confident about making my reservations for Miami, but thus far I have Georgia on my mind.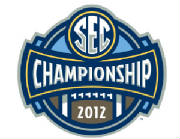 BAMA 30 – Georgia 23
ROLL TIDE
Wed, November 28, 2012 | link
Friday, November 23, 2012
Week 13 - THE IRON BOWL
Bama disposed of the Western Carolina Catamonts as expectd by a score of 49 - 0. The focus that has been missing for the past two weeks seems to have been back,as if that is were not enough, the FOOTBALL GODS aligned themselves with #1 Oregon falling to Stanford and #2 Kansas State falling to Baylor - catapulting The Crimson Tide back into #2 with a target on the BCSNC game, provided they take care of business with Auburn and with Georgia in the SECCG.
The 77th meeting of the Iron Bowl finds Auburn as a 32 point dog sporting a 3 - 8 record, winless in the SEC. Simply put, a bad team. Cliche's "throw the record books out the windos" - "depends on who wants it worse" ....well I don't think that will be the case in this one. Bama has better talent and with the focus now on the path to the BCSNCG I don't think Auburn will be able to stay with Alabma, but I do suspect Auburn will, as Coach Bryant was fond of saying, "have their dobbers out".
Auburn does have a lot of distractions, with the news of NCAA investigations and a head coach on a seat hotter than that deep fryer used for the turkey yesterday. I look for Bama to run the ball a good bit, and hopeuflly have time to heal some of its walking wounded .... Bama 38 - Aub 10. ROLL TIDE.
My fav Iron Bowl memory - Tiffin's 52 yarder "THE KICK" -
Fri, November 23, 2012 | link
Friday, November 16, 2012
Week 12 Tide VS Western Carolina Catamounts
Loosing is never easy unless you loose a lot. Thankfully I am not used to Bama loosing a lot. So Loosing HURTS!!! And it hurts more when you are beaten at home by a team who you know is good, but they really made Bama look average in the process. No Excuses! Bama was beaten - 20 to zip before you could bat an eye. Yes, there is a controversy over whether Bama should have run it or not near the goal line, but frankly here is my 2 cents .... It never should have come to that point... meaning Bama should have won without resorting to the results of one play. Bottom line, The TIDE GOT OUT PLAYED, AND OUT COACHED!!! OUCH!!!! The truth is the truth. Johnny FOOTBALL played lights out, and Bama didn't. We trudge onward... with SEC Title hopes and though not in the drives seat for NCG, still in the vehicle.
Bama hosts the WC Catamounts this week, with hopes of licking their wounds, resting the weary and toning up for the home stretch. No matter the outcome down the stretch, any Bama fan has to be proud of this team and their accomplishment. Bama should and will handle the Catamounts === final Score? Bama 55 WC 6 ROLL TIDE
Fri, November 16, 2012 | link