Friday, September 14, 2018
Week 3 - Bama VS Ole Mis
Bama took little time to take care of Arkansas State. But no one was really surprised. Tua started and played very well as did Hurts. Both had good games with high ratings. But how stiff was the competition? From watching it didn't look like there was any. Others say Arky State has a good football team. Their highly touted QB Hansan, was 15/36. Well below his average. Bama's Defense played well although there were times it was hard to say that. Minor breakdowns, nonetheless breakdowns. It could be a lack of concentration from being ahead by 40.
This week will tell more. As Bama is facing the Ole Miss "LANDSHARKS". That just seems weird typing it. Anyway, OM has a great QB and 3 WR who are expected to go high in the NFL Draft. OM QB Ta'amu was 23/33 with 450 yards against the Salukis and scored 76 points with 646 yards. No that is not a typo. Now, the Ole Miss Defense gave up 629 yards of those 241 were on the ground and a total of 41 points. I didn't see the game, but looking at the stats, the blaring difference is Southern Illinois turned the ball over 3 times while Ole Miss didn't have any turnovers.
Now Bama...Ole Miss. Those big tall lanky Ole Miss receivers could pose a problem with Alabama's young untested secondary. The flip side of that is can Ole Miss stop Bama's running/passing game? It certainly makes for an interesting matchup. The game being played in Oxford should give Ole Miss some momentum. Oh and I have to say, though the Bama so called QB battle has ended, Bama's Kicker missed two extra points resulting in a new kicker. So hopefully this game will not depend on an extra point or a field goal.
Bama should be strong against Ole Miss, and I expect the 2:30 game on CBS to be a good one for a while. I do think OM will break a few long pass plays with their athletic QB and wide receivers giving them more points that Bama fans are accustomed to having scored against them.

48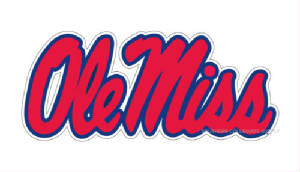 28
Roll Tide !

Fri, September 14, 2018 | link
Friday, September 7, 2018
Game 2 September 7 - Bama Vs Arky State
Opening week on a neutral field. Once again Bama prevails... 51 -14 over a Louisville team that was simply outmatched at every spot. The takeaways for me were - The Defense has work to do, they looked confused at times... The Offensive Line has work to do as Tua was pressured more than he should have been - and finally, Tua is everything everyone has said, and if possible more!
He has such a great knack for the field. Some players have this, but not many. His ability to scramble, keep his head down field and of course his arm, make him dangerous. After one Quarter anyone with doubts about who should be starting were SQUASHED. Jalen came in and it was obviously a drop off.
This week Bama is at Home taking on the Arkansas State Red Wolves. Bama is again a heavy favorite in this game...36.5 favorite. Folks in the know say, the most improvement comes in the week between the first and second game. If that's true, it will certainly show quickly for Bama. The Red Wolves were victorious on their debut as well. Justice Hansen, the RW QB, is very good. Those numbers speak for themselves. Listening last night to Nick Saban, is Bama isn't ready, these guys can light it up. I know it's hard to get excited about playing a team as big as an underdog as The Red Wolves, however this Bama team is exciting because of potential.
Look for the Bama O line to step up the game. Look for Tua to be Tua, and look for Alabama's secondary to be burned at least a couple of times.

55

16
ROLL TIDE !


Fri, September 7, 2018 | link
Friday, August 31, 2018
SEASON OPENER 2018
08/31/2018
Is it Christmas Eve? No but close. It is the day before Bama plays their first game. I know some would say it's silly and some would scoff, who needs them. This is a day that all College Football fans look forward to, no matter how good or bad your team may be. And here it is, College Football 2018 Edition.
Bama is coming off it's 5th National Championship in 9 years. Please I beg you, to let that sink in… FIVE National Championships in NINE Years. Coach Bryant was the Bama coach when I was born. His legendary run with National Championships was phenomenal. To think that I have been able to be a fan and witness these two amazing runs…is mind boggling. As fans it's easy to forget the times when National Championships were scarce. One Championship from the time Coach Bryant left to the time Coach Saban took over, thanks to Coach Stallings. That again shows just how difficult it is to win Championships, yet Bama and Saban have 5 over the last 9 years. WOW – just Wow… I digress.
Fortunately I have been fortunate enough to witness in person each of the Championships under Coach Saban, as well as the 92 National Championship under Coach Stallings. In fact that was an INCREDIBLE game. I sat in awe of that team as they completely throttled THE U – and no one gave them a chance. I have often told folks that I would never witness another game that was so exciting that it becomes part of you. Well… the NCG in Atlanta is either a close second, a tie or noses out that memory in my mind. The excitement level in the second half easily equaled that of the 92 game in NOLA. Tua is the version of Teague and his take away. Plus, being down and coming back was legendary. I am just thankful that I was at both.

As has been my tradition since I started Tide Rides site, I pick the games for the fun of it an here I am. On to this year and the Louisville game Saturday. Bama comes in as a very heavy favorite. 25 or 26 points, depends on where you look. Louisville is without Lamar Jackson now with the Ravens, this matchup lacks the luster it would have had last year.
Bama – amid a QB "controversy" or at least a contrived one… has only 4 players returning on Defense who started last year. Of course you and I know those guys who are playing this year have seen significant playing time … but the fact remains they are younger in experience. Bama also has a defensive backfield with several NEW NAMES. Many are suspect of the secondary saying the defensive line must be able to pressure the QB and take some of the pressure off the guys in the defensive backfield. All of the above is likely true. Who starts at QB? Well, I don't know and that's ok with me. Many fans and media are all upset because "SABAN" should tell. I don't get it, because I think it's a good problem to have. Both are great, and one is a much better passer, one a much better runner. I personally believe Saban will start Hurts, but I know NOTHING.
The Cardinals are returning several seasoned and BIG receivers who just might give that new secondary fits. And a new QB whose last name is Pass – "what's in a name" is said to be in the build of one Cam Newton. He is a big kid too. St Louis struggled mightily last year giving up sack after sack after sack. Given the fact that Bama is still going to be very strong up front on Defense, it certainly easies my mind.
Finally, Coach Saban has fared well in these opening games on neutral site games, plus Louisville's players have been very vocal this week about beating Bama. Though part of me is worried about that secondary… I think Bama will handle business and cover that 25 point spread.


13

40
RTR

Fri, August 31, 2018 | link
Friday, January 5, 2018
Happy New Year !!!
WOW - Bama is in the Finals Again!!!
The Crimson Tide ROARED to victory against the Clemson Tigers on New Years Day with a 24-6 Victory. The game was not as really as close as the score indicates. Bama dominated on Offense and Defense. Though the game at half was a close score, Bama should have been up handily. With a Defensive TD and another INT from the defense, Clemson looked lost for most of the day.
Meanwhile - Georgia looked as if they were going to be embarrassed by Oklahoma, only to come back and beat the Sooners in double OT! It was quiet a game - one for the ages. Thus here we are with the 4th year of the CFP in place and two SEC teams are squaring off. Bama VS Georgia. The winner of the SEC and the 3rd place SEC team - oh yes, that's how this played out.
What should we expect for the NATIONAL CHAMPIONSHIP GAME? Bama and Georgia are practically mirror images of each other. Bama is a run then pass team as is Georgia. The stats between the two are really close. Georgia leads in TOP, 3rd Down Percentage and Pass Defense. However, these are close as are most. Key to the game for both sounds very cliche -convert 3rd downs and get Ga off the feild.
Bama's Defense looked like they were on fire, and it showed against Clemson. If the Bama D can stop the run - well, that should insure a victory.
Look for a typical SEC OLD SCHOOL SLUGFEST. In the end, I believe the Teacher will defeat the Student.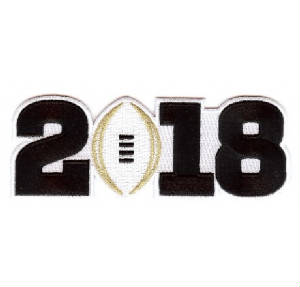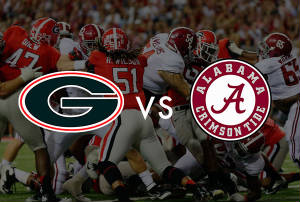 16 27
Fri, January 5, 2018 | link
Friday, December 29, 2017
College Football Playoff - Bama 4 for 4
Happy New Year !!! Well almost

2017 is almost over and Bama finished the regular season with a Heartbreaker to Auburn. Credit where it's due, Bama simply got beat! In non Bama (Saban) like fashion, The Tide played sloppy, turned the ball over, got sacked when it wasn't necessary and committed too many mistakes to keep it closer. This loss of course kept the Tide at home for the SEC Championship game. And we all know Ga beat the Tigers on the second try thus the Dawgs head to the Playoffs....
There were some tense moments in the days that followed? Was Bama one loss, in or out? Thankfully the committee chose Bama to be in.
#4 Seed Bama takes on #1 Seed Clemson! This is not for the Championship as it has been for the years past, but it is ONE AND DONE. Despite being the #4 Seed, Bama comes in as a 3 point favorite according to odds makers.
Clemson lost very early in the year to Syracuse - of course Bama late to Auburn. Clemson was without their starting QB vs the Cuse, and Bama - has been plagued with injuries in the linebacker position all year. What does it all mean?
In synopsis - Bama will have had over 35 days since they last played. Clemson played in their Conference Championship game in early December. Who does that favor? Who knows, but it has given Bama the opportunity to get some guys in better health.

Frankly this game is scary for Bama fans. But, there are 126 other teams who would love to be in this final 4. Why is it scary ? Bama really hasn't played very well since the TAMU game. There just seems to be something missing. The team hasn't looked in SYNC. The last two (SEC) games of the season, Bama has not played as well as they can, and it showed. Clemson on the other hand, has seemed to get better as the season rolled along. Their Defense, is very very good and may give Bama fits if Bama finds themselves behind the chains on any down.
Keys for a Bama victory? Easy - convert on 3rd down - and keep Clemson off the field. Bama was miserable against Auburn on both. Play that way again, and it will be a LONG night. But go back to that time between games? Has Bama gotten some of the "kinks" out?
Another thing is the Kicking Game. I do believe Bama has the advantage in the kicking game. Clemson has struggled with FG's over 35 yards. If it comes to kicking game - Bama will win.
So I say Bama will prevail. Bama will have some things that Clemson will be surprised about. It will be a close game, but Bama wins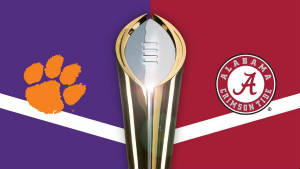 26 30
ROLL TIDE !
Fri, December 29, 2017 | link