Wednesday, November 8, 2017
Week 11 Bama VS Miss St
Bama VS Miss St
Bama didn't appear to have a great game vs LSU last week winning by 14 after being favored by 21. LSU won in almost every category of the stats. Bama could never get their running game going and couldn't seem to stop LSU as they have most opponents this year. Bama also took another hit at linebacker and on the Dline with more injuries. Those are beginning to pile up, and should cause some concern among the coaches and fans. Is that concern valid? I believe so, especially from a depth standpoint. Thankfully the winner of the stats doesn't matter, and the scoreboard does... so Bama 24 LSU 10 is the only stat that matters.

This week Bama travels to Starkville (a short road trip) to take on the Bulldogs. The Dogs are ranked 16 in the Nation with 2 losses. Those came to Georgia and to Auburn. This is a game that many had marked on their calendars for a long time. At the beginning of the year, many thought this would be the thorn in Bama's side. Many think Miss State matches up well versus The Tide at many positions. Of course with all the injuries, if that was true, it certainly is now. The Linebacker spot is critical in defending a QB like Nick Fitzgerald may prove difficult. Fitzgerald is swift afoot and has on occasion carried the team on his shoulders. Bama will have to be able to stop Fitzgerald and the Miss State running game, to keep an upset from happening here.
Bama of course has a weapon at QB in Hurts. Who carries his team at times. Bama's most secret weapon may be punter JK Scott. Thus far for the year, Bama (Scott) has yet to have a punt returned. They have either been touchbacks, fair catches or downed. When the Offense stalls, having that weapon is really a difference maker.
I think Bama may have some trouble with State and if they allow them to "hang around" too long it could be costly. But, I think Bama will out physical them and win going away.
ROLL TIDE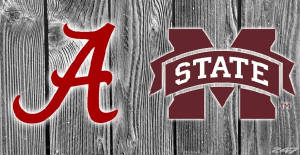 38 16
Wed, November 8, 2017 | link
Wednesday, November 1, 2017
Wednesday November 1st WEEK 10
Well, its Bama vs LSU time. Wow, how time chances things. Of course in my world I think as my dad told me there is a pendulum effect. Meaning as sure as it swings in one direction, it is going to swing in the other one day. What does that have to do with this game? Bama vs LSU was once a game that the media craved, it decided the SEC West, and was once as little as 5 years ago coined "The Game of the Century". Tomorrow at 7pm Bama will defend their undefeated record on their home field against an LSU bunch who dropped an early game to Troy. Yes, as I typed that, I had to double check but it was Troy. The Tigers are a bit on the unpredictable level, they lost not only to Troy, but were really manhandled by Miss State. The Tigers, however have eked out wins over Auburn and Florida. Both games they were considered underdogs. The most recently handled Ole Miss 40 - 24.

Bama comes in a 21 point favorite. WOW - that is difficult to believe, but Bama has handled everyone in the fashion of a drubbing, with the exception of TAMU (win by 8). And looking at this game on paper, it looks as if 21 may not be enough. However as the cliché goes, they don't play on paper.
In the past few weeks, since the Auburn win, LSU seems to have gotten some continuity and seems to be playing better football. Both have had a week off heading into this game. The Tigers are playing with a nothing to lose attitude, and Bama has everything to lose. The first College Playoff Poll came out last night, and Georgia is ranked the #1 team, with Bama #2. Will that have any effect on the minds of the Bama players? I'd say a bit. I believe Coach Saban when he says they don't talk about the Polls, but I think the players do and will perhaps be a bit miffed. That of course will not matter long as the first hit of the game usually takes care of the emotional part.
I think Bama has too many talented players so deep on the roster, that even if LSU can hang with them early, they won't be able to going into the 4th Quarter.
The key for the Tide is to do what they have done all year, score early and play Defense. If Bama does that, LSU may have a hard time not allowing them to cover. Hopefully Bama has done some work on the special teams part of the game, and will not botch a catch on punt returns.
This Bama LSU game may be like the one billed "Game of the Century" where LSU didn't get much going on Offense and only crossed midfield once.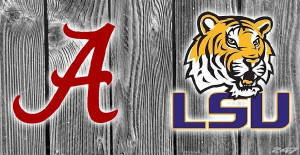 38 10
Wed, November 1, 2017 | link
Wednesday, October 18, 2017
Week 8 Bama VS UT
Before FOOTBALL --Last Saturday I was fortunate enough to be part of my 9th Bama Homecoming Parade! This year was a very large crowd! Every year this is a special event for me and my family. My wife, Michele and I were saddened this year with the absence of our late son, Justin. He was normally a part of this annual event and words can't describe how much we both missed him. As we made our way through the maze of people, I couldn't help but smile back at the smiles and wave back at the waving hands. I thought to myself, the many gathered likely don't have much in common...perhaps religious views differ, politics differ, etc... but for that period of time they all have Alabama Football, and the love of a Parade in common.
It was and always is a touching moment. This year, I add healing to that list.
___________________________________________________________________________________________
The 3rd Saturday in October - Smoke em' if you got em'
I remember as a kid - John Forney describing Neyland Stadium as the leaves begin to change, the river reflecting the sun, in what was once "one of the biggest rivalry's in Football". My My, how things change. This one is being played at Bryant Denny, where Bama just disposed of Arkansas 41 - 9 last week for Homecoming. Bama comes into this game as a 34 point favorite. Think about that 34 points? WOW..... things have changed.
Tennessee's overall stats are really abysmal - allowing one to understand why the spread is so big. On the one hand - Bama looks like a lock to cover. However, I am certain people were saying the same thing about Clemson last week. Yet The Orangemen thought differently and Clemson has their first loss of the year.
Saban is preaching about becoming complacent and why not, winning the way Bama has won could breed such. But I think Coach will keep them playing at a different level and Bama will head to another victory against the Vols. The last time UT won against Bama was 2006, I think 2017 will be #11.
No doubt UT will be UP - but Bama has too many great players and is too deep.
45 10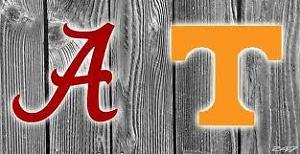 Alabama vs. Tennessee since 1985
| | | |
| --- | --- | --- |
| Year | Bama line | Bama result |
| | | |
| 1985 | -3.5 | L 14-16 |
| 1986 | -13 | W 56-28 |
| 1987 | 2.5 | W 41-22 |
| 1988 | -7.5 | W 28-20 |
| 1989 | -4 | W 47-30 |
| 1990 | 1 | W 9-6 |
| 1991 | -2.5 | W 24-19 |
| 1992 | -1 | W 17-10 |
| 1993 | -6 | L 17-17(Forfeit) |
| 1994 | 4 | W 17-13 |
| 1995 | 4 | L 14-41 |
| 1996 | 14 | L 13-20 |
| 1997 | 8.5 | L 21-38 |
| 1998 | 17.5 | L 18-35 |
| 1999 | 3.5 | L 7-21 |
| 2000 | 3 | L 10-20 |
| 2001 | 2 | L 24-35 |
| 2002 | 1.5 | W 34-14 |
| 2003 | 3 | L 43-51 |
| 2004 | 7 | L 13-17 |
| 2005 | -3 | W 6-3 |
| 2006 | 10.5 | L 13-16 |
| 2007 | 1 | W 41-17 |
| 2008 | -5 | W 29-9 |
| 2009 | -14 | W 12-10 |
| 2010 | -17 | W 41-10 |
| 2011 | -29 | W 37-6 |
| 2012 | -19.5 | W 44-13 |
| 2013 | -28 | W 45-10 |
| 2014 | -20 | W 34-20 |
| 2015 | -14.5 | W 19-14 |
| 2016 | -14 | W 49-10 |
Wed, October 18, 2017 | link
Thursday, October 12, 2017
Game 7 Bama VS Arkansas
Homecoming – my favorite game of the year. Why? I get to dust off the Tide Rides for their annual trek to Tuscaloosa for the HC Parade. Truly a highlight each year for me and hopefully others.

Bama heavily favored over TAMU looked to lose a bit of focus. Coach Saban addressed it as not finishing. The Tide had a 21 point lead and the game ended a 9 point win. A win is a win, and credit has to go to TAMU. Their Defense played well, and Bama struggled to convert at times. And let's face it, Bama has spoiled us.
On to Saturday – at Bryant Denny. The HOGS of Arkansas come to town and find themselves a huge underhog – (sorry I had to go there). Bama finds themselves on ESPN for the 2nd consecutive week – in prime time. Arkansas comes to T-Town with their tails tucked after a 42-24 loss to the South Carolina Gamecocks. Bama is favored by 29 in this one, and I think they will cover that.
As Coach Bryant was fond of saying after Bama's game with TAMU – they should "Have their dauber up". Bama should Roll….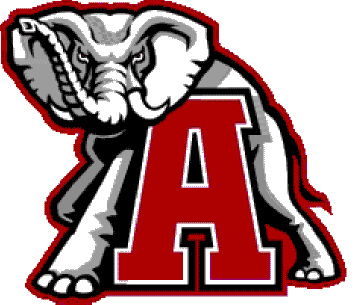 51 16
Thu, October 12, 2017 | link
Friday, October 6, 2017
Game 6 Bama VS TAMU
WOW – what happens when you have obligations that keep you from posting on your Bama Blog for a few weeks?
Readers Digest version – Bama Clobbers Colorado State 41 - 23 – Bama Hammers Vandy 55-0 then steps on Ole Miss to the tune of 66-3.
The narrative after the Colorado State game was "Bama needs work…they allowed Colorado State to move up and down the field, and score 23 points." That led to a rant by the Coach about focus.
I suppose his rant was heard by the team because then Alabama has scored 121 points to their opponents 3…..OUCH! Bama was a heavy favorite against Ole Miss, but I am not sure many folks predicted the final score of 66-3.
Saturday at 6:15 on ESPN, Bama takes on the TAMU Aggies in College Station. The Aggies bring a 4-1 record with a loss to UCLA, in a game where the Aggies obviously lost focus and collapsed in the second half.
A couple of things to think about. TAMU has arguably the 2nd best Offense in the SEC (by the numbers) and have moved the ball. They hit on a lot of BIG PLAYS… which Bama has struggled with at times. At least by Saban standards. Bama held Ole Miss to – ahem… 0 of 15 on 3rd and 4th downs. Yes, read that again…. WOW.
Is this a TRAP GAME? I think it could be. TAMU is a underdog of 26 or more, so they really have nothing to lose and everything to gain with an upset – or even a close game.
Bama is riding high. Off the arm and legs of Hurts the offense is moving the ball very well. Defense for the past two weeks, has played GREAT. This is a road game, but that road takes Hurts to his home state of Texas.
Look for the Aggies to be pumped and come out early and go fast. But Bama will catch up to the speed and pace quickly and soon control on Defense and offense.
Bama will Roll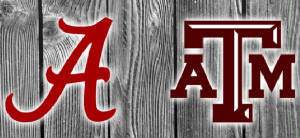 38 10

Fri, October 6, 2017 | link